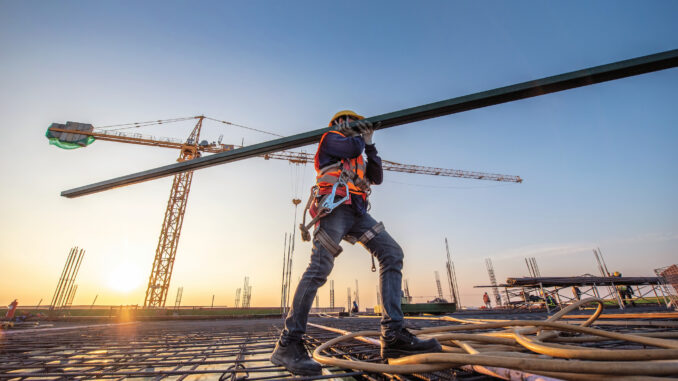 2023 Guide to Ohio Workers' Comp: Ohio workers' compensation system sees decreased costs, injuries
By David Holthaus
The workers' compensation system in Ohio is said to be one of the earliest forms of Social Security. Founded in 1911 by the state of Ohio, it is a publicly owned system meant to protect workers and their families from job-related illness, injury and death by providing coverage for medical care or wage replacement for workers hurt or killed while on the job.
Ohio is what is known as a "monopoly state," one of the few states that provides all workers insurance through its public, state-funded system rather than through a private insurance company. The system insured 257,000 public and private employers, and approved 70,000 new claims in fiscal 2022, according to its most recent annual report.
The bureau paid $1.3 billion in benefits during the fiscal year, a 5.6% increase from the year before.
The BWC maintains an investment portfolio that was valued at more than $20 billion at the end of FY 2022. At that time, the portfolio was invested in bonds (52%), stocks (26%), real estate (20%), and cash and equivalents (2%).
In Ohio, worker's compensation insurance is mandatory for all employers, even those with as few as one employee. Employees must be covered from day one of their employment. There are a few exceptions: sole proprietorships, partnerships with no employees and owners of family farms with no employees, but, for the most part, everyone pays into the insurance pool.
There can be penalties, even up to jail time, for not participating. For example, in 2015, the state prosecuted an employer that failed to report and register its 100 employees, failed to insure them or pay premiums. The employer was sentenced to jail time, and hit with more than $140,000 in costs and fines and penalties, according to WorkCompLab, a resource for small businesses.
Most employers purchase insurance through the Bureau of Workers Compensation, but some large employers opt for self-insurance. They must have at least 500 employees to self-insure.
The bureau contracts with several third-party managed care organizations, and employers hire these companies to help them with management of workers compensation claims, to handle the initial reports of injuries, with claims management, bill processing, dispute resolution and vocational rehabilitation services.
The third-party companies can help employers with the sometimes-complex world of workers compensation, says Cheryl Henderson, MCO supervisor for Genex Care for Ohio. "You can build relationships with those companies, and partnerships on how to best manage their claims and get their workers back to work safely and in a timely way," she says.
In addition to Genex, some of the other MCOs in Ohio are Sedgwick, Sheakley Unicomp, Minute Men and ProMedica.
Managed care organizations are selected for a period of two years and can be changed during an open enrollment period. The Ohio bureau maintains a MCO report card online that can help evaluate an MCO's performance. The report card includes statistics on their efficiency in submitting claims and in paying health care providers' bills.
Back injuries, knee injuries and repetitive use injuries are among the more common injuries that claims are submitted for, Henderson says.
Employees can file for benefits when an injury or illness related to the job leaves them unable to work for a period of time. Benefits may be available to cover medical care expenses, including doctor visits, hospital stays, medications, surgeries, rehabilitation and any modifications that may be needed for their homes or cars. If they miss work, it is possible to receive compensation to make up for lost pay. Those payments are typically made weekly.
The BWC sets rates for insurance and self-insurance using a standard rate based on the type of occupation. Then it adjusts the standard rate using two years of experience specific to the employer, according to WorkCompLab. Employers with above-average rates of claims and losses typically are charged higher rates, while those with safety programs and a lower-than-average number of incidents typically receive a credit against the standard rate, it says.
"The Bureau of Workers Compensation has worked hard to get premiums down," Henderson says. In 2022, public and private employers received a 10% reduction in premiums. That followed premium reductions of 7.9% and 5.9% for public employers in the previous two years, the Bureau says.
"We've gotten stricter on what we look at, on what we approve and we've gotten better at negotiating prices," Henderson says.
In fiscal 2022, "We once again experienced low claim numbers, thanks in large part to Ohio's focus on workplace safety," former Bureau CEO Stephanie McCloud said in the agency's annual report. Claims numbers in the current year are higher, partly due to the easing of the pandemic and the return to normal business operations for many companies. But in February, the Bureau's board approved another 8% rate reduction for private employers for the coming fiscal year, which begins July 1.
Overall, that puts average rate levels for private and public Ohio employers at their lowest level in more than 60 years, the Bureau says.
The agency says a recent study found that it had the fifth-lowest workers' compensation premium rates in the country through Jan. 1, 2022. That was an improvement from 12th place in the study's 2020 results. Rates have dropped dramatically since 2008, when Ohio had the third-highest rate in the country, the agency says.
"Our rate reductions continue to advance Ohio's strong economic position," says BWC CEO John Logue. "We continue to improve the way we do business with our customers and make it easier for them to succeed."
The bureau employs more than 100 people in its special investigations department to investigate and deter fraud. In 2022, investigators closed 1,431 cases, with 69 convictions, and averaged nearly $63,000 in savings for each closed case, the Bureau says.
For example, in December, a Franklin County man pleaded guilty to one count of workers' compensation fraud, a fifth-degree felony, after receiving more than $34,000 in benefits. The man had been surveilled working as a window washer and climbing ladders after receiving disability benefits for a period of two years. He was ordered to pay back the benefits he fraudulently received and was sentenced to five years of probation.