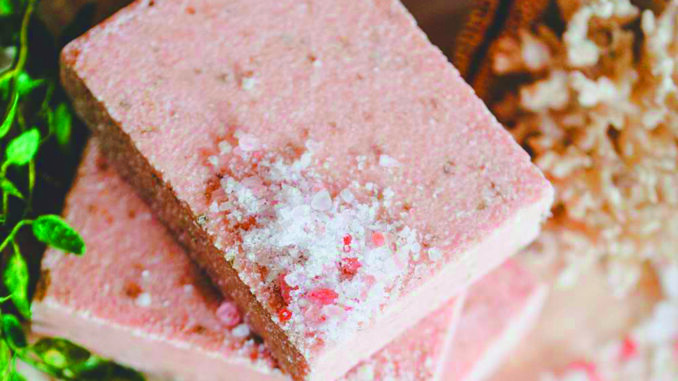 Chagrin Valley Soap & Salve stays true to its natural, organic roots
By Terry Troy
Sometimes you have to make sense to make cents—especially when it comes to organic and natural scents.
When Ida Friedman Kasdan, founder of Chagrin Valley Soap & Salve, started selling her homemade soaps at craft fairs back in 2001, there were many people who told her that she would never be successful. Today, she oversees a company that offers more than 300 different products and has a global reach of more than 80 different countries.
"The nice thing about it is that I don't have to run the company anymore," says Friedman, who is still very active in its operation. "I have an incredible team of people, most of which are my children or their friends and others who have been with me from the beginning."
Chagrin Valley Soap & Salve is actually what Friedman calls her "third life, I had a very successful career in nursing and was never interested in founding a company," she recalls.
In addition to being a registered nurse, Friedman also earned a master's degree in biology and later taught middle school science using a minor in chemistry.
"I was looking for a hobby and I would go to craft fairs with my husband, Howard [Kasdan]," she says. "We never could understand how people were selling handmade soaps that were full of chemicals and artificial fragrances."
Using her background in chemistry, Friedman embarked on a new hobby: creating all-natural, homemade soaps without artificial or synthetic ingredients.
Her first batch was a goat milk and oatmeal soap. Her first test subject? You guessed it: Howard, who actually suffered from eczema at the time.
"After using the soap for only a few weeks, the eczema simply disappeared," Friedman says.
That's when she knew she was really on to something.
"I believe in all the ingredients we put into our products, but sometimes I think it's what's not in there that is more important," says Friedman. "When I first got into the business of making soap, and later lip balms, we were one of the first companies that was truly making natural, organic products. The problem you run into on the internet [and the market in general] is that there are a lot of companies that are great at branding products that are natural, but they are not really natural. So we were in this niche all by ourselves, as other companies came in and got into the business."
Staying true to its corporate mission and dedication to natural and organic ingredients have been key to the company's success, says Friedman. The company became a certified organic company in 2010. The company not only buys ingredients that are sustainable, but also cruelty free. It also listens to the suggestions of its customer base.
"Some of our customers began asking us if we were 'free trade,' so we became free trade," she says.
The company is also dedicated to natural products in its packaging.
Using all natural organic ingredients as well as sustainable and ecologically correct packaging does add to product cost and operations, notes Friedman.
"But that is pretty much our market," she says. "Our customers are very savvy people. They want natural organic products for themselves and their families, but they are also looking for a company that is ecologically conscious. And they are willing to pay a little more for it."