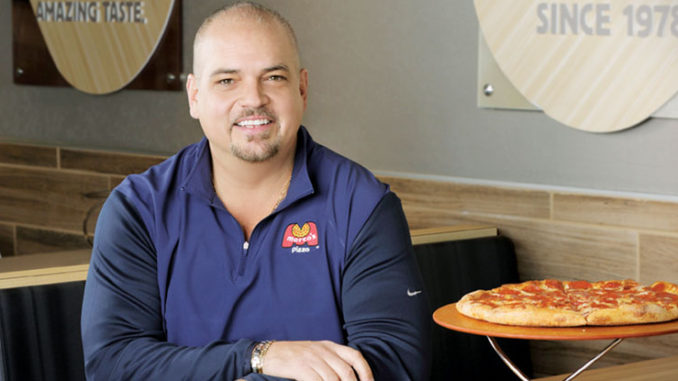 Marco's Pizza has grown into a national chain
By Lynne Thompson
"Why are you putting a pizzeria here?"
It's a question Pasquale "Pat" Giammarco repeatedly heard in the summer of 1978 as he prepared to open his first Marco's Pizza shop in Oregon, Ohio, just east of Toledo. There were, of course, other pizza shops in the area—a spot Giammarco chose during a trip to Toledo to rent a tuxedo for a friend's wedding in nearby Monroe, Michigan. But Giammarco believed his pies were far better. He was a true born-and-bred Italian, one who immigrated to the United States at the age of 9 and worked in his family's Dearborn, Michigan, pizzeria.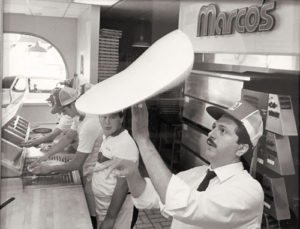 There he and his father developed a sauce recipe using fresh Roma tomatoes that he planned to use, along with dough made fresh daily, premium meats and fresh vegetables. Upbringing and experience had taught him the value of using the best ingredients available.
"[People] would come from 20 miles away, a lot of times," he recalls of the result. "And we would just start opening up more locations, where we knew people were coming from. I didn't have any marketing-type skills, but I had an idea. As long as I knew there were people there, they would eat Marco's Pizza."
Giammarco was right. Over the last 41 years, that fledgling regional chain has grown into a national operation with just under 950 stores—40 are company-run, the rest are franchises—in 35 states, Puerto Rico and the Bahamas, earning accolades such as America's Most Loved Pizza in a 2019 Harris Poll.
Last year it totaled approximately $600 million in domestic sales. Tony Libardi, president and chief operating officer of Marco's Franchising LLC, expected to open the 1,000th Marco's Pizza location just before or after the end of 2019. And the company's appetite for growth doesn't end there. Libardi talks of plans to expand into international markets beyond the Caribbean, despite ending a three-year foray into India with the closing of all four franchise stores—a setback he attributes to a number of factors.
"We still are very bullish on getting into Canada," he says. "We're actively recruiting [franchisees] in Mexico and the Dominican [Republic] and Central America. In fact, we're negotiating Panama and Costa Rica as we speak."
While Marco's Pizza is firmly rooted in Giammarco's quality product, Libardi attributes its growth to Marco's Franchising Chief Executive Officer Jack Butorac, a franchise-operations veteran responsible for the proliferation of Zapata's, Chi-Chi's and Fuddruckers restaurants during his tenure with each company. In 2002 Butorac was working as a consultant. He was asked to analyze Marco's Pizza as a potential growth opportunity. He was impressed by what he found at five Marco's stores during a drive through Ohio: "different exteriors and inconsistent branding, but the same great pizza at each location," according to his biography.
Two years later, after working as a consultant with Giammarco, Butorac purchased the franchise rights and brand with the goal of making the 123-store Marco's Pizza a national chain. Libardi notes that Butorac differentiated Marco's from competitors such as Domino's, Papa John's and Pizza Hut by touting its Italian heritage, one that celebrates craftsmanship and attention to every detail. Giammarco, after all, was still a shareholder and franchisee.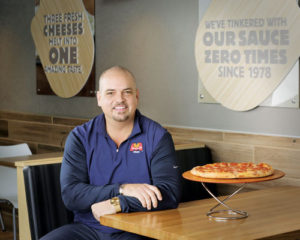 "We were able to go out and say, 'Hey, we're a better pizza than theirs because our founder really toiled over the recipes, not just the quality of ingredients but the dough recipe, the sauce recipe, the [three-] cheese blend that we use—every aspect was contemplated and detailed,'" Libardi says. "And so Jack was able to elevate that, really, over the next decade."
By the time Libardi left his job as Burger King's vice president of U.S. operations to become Marco's Franchising's executive vice president of operations in June 2014, the company was celebrating its 500th Marco's Pizza store opening in Wilmington, North Carolina, along with a recent entree into the international market with four franchise locations in Nassau, Bahamas. A year later, it opened the first of what is now 34 locations in Puerto Rico.
But in some ways the company was still what Libardi calls "a very local, mom-and-pop style of operation." Libardi began standardizing and automating operating systems, processes and the procedures, introducing technologies such as a cloud-based e-learning enterprise for employees to support and facilitate growth, along with continued replication of the tasty experience Giammarco had created. In 2017, shortly after Libardi became chief operating officer, the company began working with a new advertising agency to develop a national strategy to replace its localized, print-heavy marketing.
"We are on TV in all 50 states in 2019, advertising to folks that have never heard of us before, improving our brand-awareness numbers, improving our new-customer growth, our trials—in fact, improving our growth strategy," he says.
Growth, however, has its challenges. The advent of third-party aggregators such as Uber Eats, DoorDash and Grubhub has upped competition for drivers and delivered-food dollars dramatically, even for companies such as Marco's that partner with them.
"Four years ago, five years ago, if you wanted something delivered to your home, you had one option: It was pizza," he notes. The availability of space to lease is scarcer, as is the availability of labor.
Since adding the title of president to his business card in late 2017, Libardi has worked to address those challenges by developing a new store prototype with a smaller footprint that allows the franchisee to own the building and only pay for a ground lease, and focusing on making Marco's Pizza "the employer of choice, the partner of choice and the pizza of choice."
Surveys emailed to roughly 300,000 customers a year gauge satisfaction via nine performance metrics, from product quality and temperature to store cleanliness and employee friendliness. An automated survey-based tool tracks employee satisfaction from onboarding to exit, the results of which are compiled and made available to franchisees. And an employer-branding strategy helps employees realize life goals such as managing or owning a store. (Libardi gives the example of the delivery driver who is now a six-store franchisee.) Success is measured by whether employees would recommend Marco's Pizza to friends and relatives as an employer, a likelihood that has increased over the last two years.
"[Brand] loyalty comes when you've reached highly satisfied guests," he says. "Well, you've got to have highly satisfied, highly engaged employees before you can really drive highly satisfied guests. We believe those two run together in order to really achieve the maximum sales potential of a store and, ultimately, the profitability"—factors key in becoming franchisees' partner of choice. He adds that the company regularly interacts with its 350 current franchisees via an advisory board made up of store owners elected by their peers, committees that work with the company on everything from marketing to technology, and town halls. "We work very, very hard at being collaborative."
The initiatives have paid off. Libardi describes booms in Dallas and Houston, Florida, the Carolinas, Tennessee and Alabama. He sees more opportunity in Colorado and Kansas. The company's executive team wants to become the fourth-largest pizza chain in the United States.
Today, Marco's Pizza is the sixth largest, according to the QSR Magazine Top 50 rankings of the limited-service restaurant industry's pizza category for 2018. While Libardi is confident Marco's Pizza soon will replace Papa Murphy's in fifth place, ousting 3,600-location Papa John's from fourth is "a big, hairy, ostentatious goal." To achieve it will require a strong partnership with franchisees who harbor a passion for growth.
"We want to get our franchisees wildly excited so they can be part of something very special," he says.