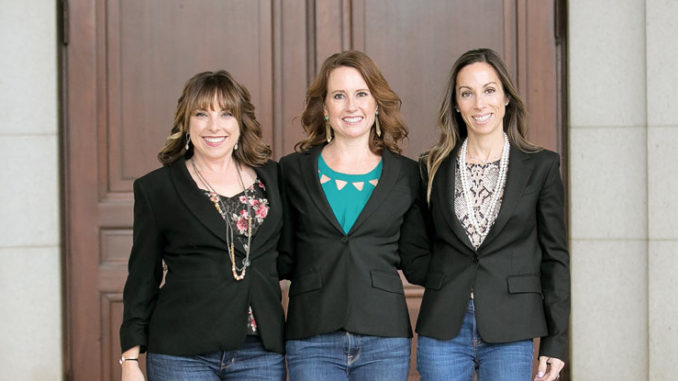 In Christy's Shoes turns love of fashion into support for those in need

By Gail Burkhardt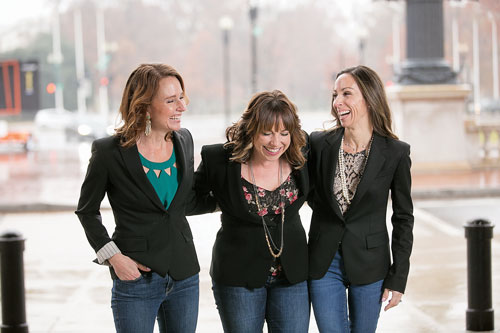 After her identical twin sister died from brain cancer in 2007, Katrina Levy Zidel decided to turn tragedy into positivity.
Inspired by her sister Christy's love of shoes, Zidel hosted a luncheon on the anniversary of Christy's death in 2009 and asked people to bring shoes to donate to Dress for Success Columbus. They received about 350 pairs of shoes and In Christy's Shoes was born.
That initial luncheon at Zidel's grandmother's house has turned into a full-fledged charitable organization that has donated more than 9,000 pairs of shoes and more than $1 million to local nonprofits that support women.
CEO Zidel and CFO Becky Sweeney, a childhood friend of the sisters, volunteer full time for In Christy's Shoes in Columbus. Another childhood friend, Jacki Barnett, heads up the organization where she lives in Arlington, Virginia.
"We all just wanted to do something together to be able to remember Christy and be able to talk about her and celebrate the person that she was, which was an incredibly giving, kind-hearted individual," Zidel says.
Christy had a large shoe collection in life and the shoes keep coming in honoring her memory. During a recent visit to the organization's headquarters in southeast Columbus, at least 300 athletic shoes, flip flops, professional shoes, prom shoes and more were on display in organized boxes to go to different charities to support women.
The organization is so much more than shoes, however. In Christy's Shoes partners with several area nonprofits that combat domestic abuse, homelessness, unemployment, human trafficking and substance abuse among area women. It also partners with the hospice facility where Christy spent the last six months of her life.
Sweeney and Zidel enjoy the rewarding work even without receiving a paycheck.
Sweeney recalls attending a graduation ceremony for an educational program through She Has a Name, a nonprofit that helps victims of human trafficking. The program gives women hope and another opportunity in life, she says.
"To be a part of that and hand them their diplomas and the big smiles they get on their faces and the hugs and the thank yous we get from them, that's a paycheck," she says.
Courtney Schmackers, executive director of She Has a Name, appreciates how much Zidel and Sweeney are interested in the work of her organization and the women they serve.
"They really want to understand how specifically they can be a part of the solution to issues," Schmackers says.
Nicole Bromley, the founder of One Voice, another organization working to end human trafficking, echoed that sentiment. In Christy's Shoes supports programs that work with homeless youth to prevent them from becoming victims of human trafficking. The funding from In Christy's Shoes frees up Bromley to focus on that vital programming instead of on raising money.
"To be chosen as one of their charities has just been the biggest blessing to us," she says. "We just love being a part of that."
Annual Sole Celebrations
A large portion of the money raised for these organizations comes from the Sole Celebration, an annual event featuring food, a fashion show, auctions and, of course, shoes.
In 2018, more than 600 people attended the Sole Celebration at Signature Airplane Hangar in Columbus raising more than $140,000. Sweeney and Zidel are still looking for a location big enough to host the next event on May 16, 2019. Tickets run for about $100 a piece with the option for sponsors to buy tables. High-end Columbus restaurants donate food and area businesses contribute items for auctions. Professional models and volunteers walk the runway. Former Ohio State football players and Columbus Blue Jackets also have joined the show, Zidel says.
They could not put on the event without the support of the Columbus business community, Sweeney says.
"We have tremendous support from Columbus businesses," she says. "We sit down and talk to people and they want to help us with whatever it is, whether it's our event video or whether it's the venue space or swag or whatever. People sit down, they listen to us, they hear our story and they say, 'How can we help?'"
In Christy's Shoes also hosts several smaller events called Sole Soirees where women gather with friends and donate shoes. Zidel and Sweeney go to the events and tell Christy's story. Through those events they have brought in many volunteers who feel connected to the cause.
New Endeavors
Sweeney and Zidel's continued success has pushed them to extend their reach.
They are planning a women's wellness expo for the fall of 2019. The expo will connect women in need with various services and nonprofits in the area.
They also have come up with a way to remember Zidel's grandmother, who raised her and Christy. Sally Levy passed away in March of 2018.
"I wanted to make sure that we honored her as well because she was such an influence on my life and I know the lives of so many people," says Zidel of her grandmother.
Sally Levy was passionate about fashion. She had opened several high-end women's boutiques in Columbus, called Sally's. The Levy family also owned The Union department stores in Columbus.
To honor her, In Christy's Shoes is partnering with a local college to start a fashion program that will help young people learn about the industry including its history and merchandising. The goal is to have students in the program design the outfits for the fashion show at the Sole Celebration.
Zidel is proud of the difference she has made since asking herself some tough questions and re-evaluating her priorities after Christy's death.
"It kind of brings you back to: Am I living purposefully? Am I living with intention? Am I making a difference? Do I feel proud? And I can answer that now and say, 'Yeah, I am.'"