By Terry Troy
When Jacquie Clark, a speech language pathologist, founded News-2-You (n2y) in Huron, Ohio,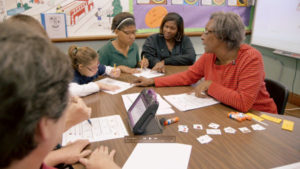 in 1997, she recognized a void in special education curricula. There simply wasn't anything that taught current events for those with complex learning needs.
With just the germ of an idea, she reached out to local resources in Northern Ohio to see if her vision could be developed into a viable business. Repeatedly, the answer was "no."
But that didn't stop Jacquie Clark.
"So she went out on her own," says Clark's daughter, Christin Wostmann, who is now president of n2y, a company that is celebrating its 20th anniversary this year. "It's been quite an interesting ride. We've grown from my parents working out of a spare bedroom with just one product to four products and almost 100 employees today."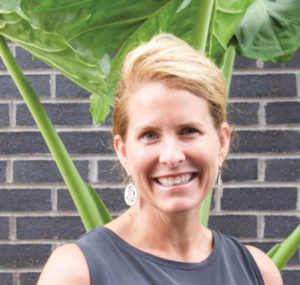 Founded in that spare bedroom 20 years ago, n2y moved into a newly built 5,600-square-foot building in Huron in 2009. It built out to 16,800 square feet of additional space in 2014. Today, construction is underway to optimize the existing space to accommodate even more employees. The company grew from 26 people at the end of 2009 to 72 at year-end 2016. It expects to have more than 100 by the end of this year.
It all started with that initial vision: Jacquie Clark's idea for a weekly current events newspaper called n2y that would also provide interactive activities designed specifically for those with special needs.
"Her main goal was one of communication," says Wostmann. "Many of her students were non-verbal. There was really nothing that connected them to their peers, their parents or the real world."
While the idea was unique, the company faced a major hurdle from the very beginning.
"At first, it was supposed to be paper-based, but we soon found out that it would be too expensive to print and deliver on a weekly basis," says Wostmann. "So my brother, who was in college at the time, suggested we do it on the World Wide Web. It was just coming out back then. No one had Adobe, and we had to use a dial-up connection, emailing PDFs to our subscription base.
"That's how n2y started. It was a way to get kids to engage in conversations with their friends and their family members. It helps them to use their communication device, but also connects them to the real world and what is going on around them."
It's now a cloud-based interactive system.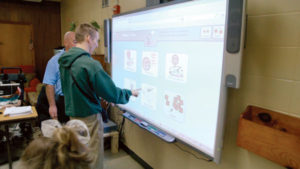 While the product itself was revolutionary at the time, so was the company's decision to use technology to market and distribute it. With technology exploding, the timing simply couldn't be better. There was also serendipity with the marketplace, with an explosion in the need for standardized testing.
"One of the things that came out of the standards movement was the inclusion of informational text," explains Margaret deBoer, vice president of marketing for n2y. "The newspaper was not only an excellent way of bringing the real world into the classroom, we found that it also prepared students for standardized tests as well."
Following the success of its newspaper, n2y launched its Unique Learning System, an award-winning, online, standards-based special education curriculum specifically designed for students with special needs. It has become an educational product of choice, serving students with diverse learning needs in school districts across the nation.
n2y soon launched a third product called SymbolStix PRIME, a web-based symbol search engine and materials creation platform. It includes depictions of people, events and activities with personally relevant stick figures appropriate for all ages.
SymbolStix is used in all of n2y's curriculum materials, news articles and communication activities. The product has also been licensed by several international companies and has been translated into nine different languages.
Earlier this year, n2y rolled out its fourth product, an online professional development program with a certification and learning management system that includes introductory training, advanced courses and lifelong learning. It's called n2y Professional Development.
"Our best-in-class, cloud-based products are now accompanied by comprehensive professional development services," says Wostmann of her company's latest product. "The goal is to help educators be successful in the classroom and provide recognition for their knowledge and expertise.
"We know that teachers need to feel confident when they start using our Unique Learning System and other products, so we offer professional development to implement their programs with fidelity. And we know that school districts expect new products to make a measurable impact, so the program gives administrators visibility into where their teachers are in their personalized learning journey."
While its products have been a resounding success, n2y has also been recognized by the high-tech business community as well. In April, n2y was a finalist in the categories of "Tech Company of the Year" and "Tech Team of the Year" at the 11th annual OHTec Best of Tech Awards.
Last year, the company also received an investment from the Riverside Company, a Cleveland-based global private equity firm, to facilitate new hiring activity, facilities expansion and other growth activities. That includes the addition of key management personnel that should well position the company for growth for another 20 years.
Key executive additions this year include David Swank, who assumes the role of chief financial officer, bringing with him more than 35 years of senior finance experience in international children's books, consumer reports and information technology.
Steve Lubowicz also joined n2y as its chief technology officer, bringing IT and business leadership experience that spans several industries, including education, software and professional services.
Margaret deBoer joined n2y earlier this year, previously serving as the senior vice president of Houghton Mifflin Harcourt, an educational publishing company. A former teacher, sales and marketing professional, she brings over 28 years of hands-on experience in the educational, technology and publishing fields.
The additions come just a year after Jacquie Clark left the company, which is growing away from being just a family-run business.
"But she is still on the board, and has been a great voice," says Wostmann, who was in her present position as president well before her mother stepped down. "Our new executive team brings a great knowledge base, which will help us look at acquisitions as well as how to grow our marketing efforts.
"For a long time we have grown by word of mouth; teachers talking to teachers, families talking to families. We are going to be looking at how we can add on companies and become more of a portfolio company as we move ahead."