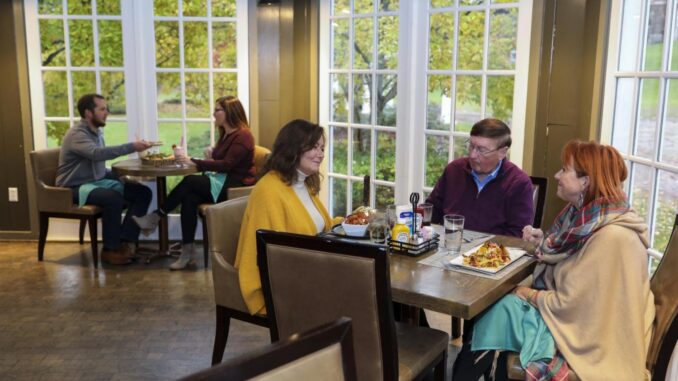 Omni Homestead's relaxing attractions withstand the test of time
By Terry Troy
As director of sales and marketing for the resort, John Hess naturally likes to talk about the Omni Homestead's 254-year history, and the multiple generations of people who visit and enjoy the venerable resort each year. Located in Hot Springs, Virginia, the area attracted early travelers well before Virginia ever became a state—its natural hot springs were said to offer healing properties and rest and relaxation to the vexed, weary and tired.
While it's true that the Omni Homestead resort has a rich heritage, Hess is actually understating the area's history. As a charter member of Historic Hotels of America since 1989, the Omni Homestead's history actually dates back to 1766. So Hess's 254-year lineage describes the birth of the actual hotel, but not the area reputation as a tourist destination.
Hot Springs, Virginia, is the stuff of Native American legends, too many to actually describe here. Archeologists now tell us that pre-historic people were attracted to the area as early as 7,000 B.C.
Many of our founding fathers knew the area well. A young George Washington visited before becoming our nation's first president. A friend, Thomas Bullitt, built one of the first cabins in the valley. James Madison and Thomas Jefferson stayed at the Homestead resort as well.
Acquired by Omni in 2013, the Omni Homestead has maintained its historic charm and attractions, while offering state-of-the-art amenities that appeal to those whose tastes run more to modernity than the past. Nestled in the middle of a valley that gives birth to more than a dozen mineral hot springs, it's a resort that appeals to visitors no matter the season.
"The original hot spring is on our property," says Hess. "So you can actually soak in the original hot spring.
"We have guests who have been coming here for generation after generation, some who have been coming here for three and four generations or maybe more. I know we have some employees who are third generation as well. So it was very exciting when we re-opened our doors at the end of June."
It doesn't take an archeologist or historian to figure out why the resort was closed for a brief spell. The pandemic has changed everyone's idea of what vacations and rest and relaxation can be.
"Right now, because of the pandemic, we are intentionally operating our resort at reduced occupancy," says Hess. "We are a 483-room hotel, but we are operating with 200 hotel rooms."
The reasons for that are multiple, Hess points out.
"We are taking extra steps in our cleaning processes because we want our guests to have a clean and safe experience," he says. "And due to state restrictions, we have put limitations on the space we utilize in our restaurants to maintain social distancing, and to also limit the occupancy of our pools. We want to make sure we can feed everybody, that everyone can get to the pool and enjoy our other venues."
But there are some safety guidelines that guests never see or experience. New cleaning protocols have been instituted in all guest rooms and public spaces. High-touch areas such as stair railings are cleaned every hour, following CDC guidelines. Even the pool is closed every three hours so the chairs can be cleaned and sanitized. When the staff shows up for work, their temperatures are taken. Anyone with a fever is not allowed to work.
"They are also asked questions about recent travel," Hess adds. "All of our staff wear masks, whether it's in a guest situation or back of the house."
Similarly, the culinary staff wears masks and gloves whenever appropriate. Like any major resort, Omni Homestead's menu changes with the season. It's also changed because of the pandemic.
"We have redone our menus in all of our food and beverage outlets to minimize food contact and manipulation by our chefs," says Hess. "So there is a little more whole food approach to all of our menus."
There are casual and more elegant dining options, says Hess. Like Jefferson's Restaurant and Bar, the latter having a more sports bar atmosphere with the restaurant offering casual but elegant fare featuring a farm-to-table approach to the menu that offers prime and regional meats from Virginia and beyond.
More casual diners can enjoy Woody's, named after a long-tenured "Woody" Pettus, who was at the resort for more than 50 years before his passing several years back.
"He was so beloved by everyone at the resort that we just felt it was appropriate to have a restaurant named after him," says Hess.
At Woody's you'll find a unique selection of specialty burgers, brick-oven fired pizzas and superb milkshakes.
"As a part of our changes, we have also created a contact-less check-in experience," Hess adds. "Our front desk staff always wears masks, shields and gloves."
It's all designed to offer guests the best possible experience, as well as peace of mind. And the reaction so far has drawn praise.
"Our guests seem very happy to be back," Hess says. "And we're very happy to be welcoming back our friends and their families back."
Even with its reduced room count, reservations have been strong. While summer is waning, there are still some availabilities midweek, Hess points out.
"Most of our guests make reservations anywhere from a week to 30 days in advance," he says. "For people looking in that range, we still have some flexibility."
Fall is an excellent time to visit on a road trip, with Omni Homestead a short four-hour drive from the Ohio border. Guests from Cincinnati and Cleveland can expect a six- to six-and-a-half-hour drive through West Virginia and some of the most spectacular fall foliage on the planet.
"The resort sits in the center of a valley with mountains all around," says Hess. "The fall foliage here is spectacular. The forests are laden with hardwoods, with just the right amount of evergreens to give a green contrast."
In addition to the beautiful two-lane roads that snake through the rolling mountains, there are also miles and miles of hiking trails. The historic spa has its own pool complex called the Serenity Garden. Relax here in an octagonal pool fed by the geothermal spring, rejuvenate under the waters of the deluge shower, or stroll along the River Reflexology Walk, with carefully placed stones that soothe and massage the nerves in your feet as you walk.
"We also have nice waterpark complex with outdoor pool, hot tub, lazy river and slides that are kept open on weekends through most of fall, at least through Columbus Day," Hess adds.
If you're a golfer, you can challenge yourself on one of the resort's two championship golf courses, including the Cascades Course, regarded as one of the top 30 courses in the nation. It's played host to a number of major tournament events.
The Old Course was created in 1892 and features one of the oldest first tees in continuous use in the nation. The legendary Sam Snead got his start there. Both courses are set against the majestic backdrop of Virginia's Allegheny Mountains.
The resort's Equestrian Center allows for riding through colored forests in fall. "We even have a shooting club," says Hess. "It's located on the top of a mountain where the views are exquisite.
"People will often plan a visit to a resort as a destination, and stay in a hotel that is close by," Hess adds. "But here, the Omni Homestead is the destination. It's like sleeping in a beautiful museum." A museum with a historic spa that has endured for centuries and all the modern amenities and conveniences that you could possibly want.