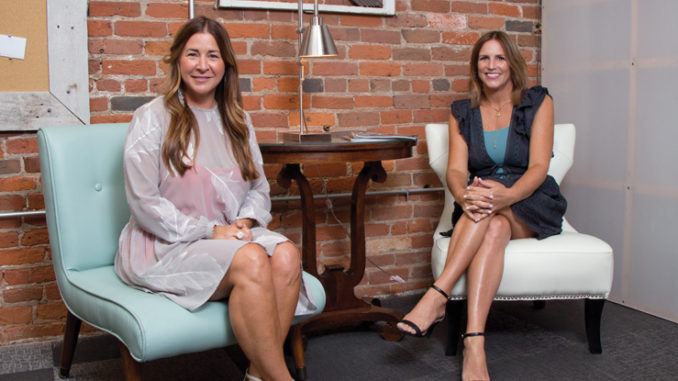 Stacy Koenig and Nicole Fariello are using their creative skills to help clients of all sizes
By Scott Unger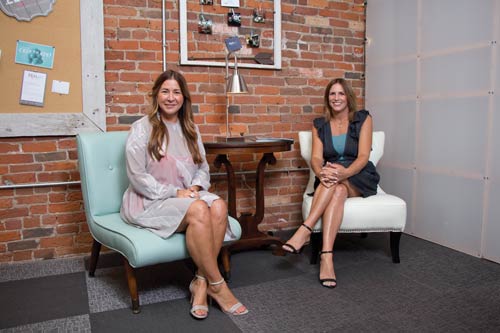 Zeal is defined as "great energy or enthusiasm in pursuit of a cause or an objective," and for Stacy Koenig and Nicole Fariello's creative agency Zeal 40, the title couldn't be more apt.
Working from the second floor of a remodeled space on Reedy Street in downtown Cincinnati, the pair's enthusiasm for helping clients reach their design and branding goals is instantly evident.
"Zeal is an awesome power, it motivates you to move forward through the day and through life," Fariello says. "And I think working with clients is where our zeal really comes out."
The office's blend of old and new, with exposed brick walls meshing with contemporary furniture and a blackboard with the message "We can and we will," illustrates this isn't some big corporate ad agency and that's exactly how they want it.
"Small is the new big," Fariello says, referring to the personal touch Zeal 40 is able to give its clients. "Small isn't good for some and that's OK, but we know we aren't going to compete with the larger agencies just yet."
Offering a range of services under the umbrella of design, branding and strategy, Zeal 40 assists clients through graphic design, content specialization, photography and videography and social media and website management.
Fariello and Koenig started Zeal 40 in 2015, after leaving their former employer, which had ceased offering marketing services.
The pair branched out to continue marketing for clients, which began mostly as recruiting campaigns for colleges and universities. The company has worked with a wide range of schools including the University of Oregon, Iowa State University, Bloomfield College and the University of Minnesota Rochester.
Three years later higher education still makes up the bulk of their clients, but the agency has grown by more than 25 percent through adding local clients, building Cincinnati business brands from the ground up.
Their portfolio of clients is broad, from construction to cosmetic and technology companies and the agency prides itself on research skills and the ability to identify a company's goals and values and create a brand that promotes those traits.
"Everything we do is custom, it's not cookie cutter," Fariello says. "What is right for you?"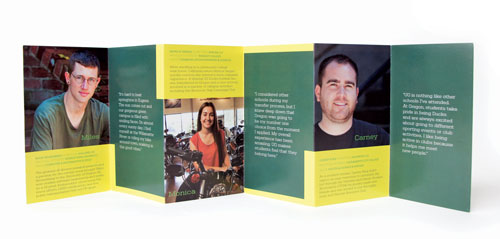 When Albert Fedders left his company to start a new construction firm, he knew branding would play a critical role in his success. He needed to show big clients he was a player in the game while being personal enough to not scare away small clients. The Zeal 40 team got to work on everything from a logo to company colors to event marketing strategies.
A year later, Fedders business is booming and he credits the work of Zeal 40 for helping the rapid expansion.
"I'm turning away more work than I'm taking," Fedders says.
The personal touch is huge for Fedders, who says he routinely contacts the agency at odd hours and always gets a response.
"They stay on top of me," he says. "It's tremendous."
Being a small business means always being "on" and having that personal connection with clients goes a long way toward achieving goals, Koenig says.
"We know a lot of our clients personally and because we're small," she says. "If we're not hearing back from a client, we'll text them. We have that relationship where we can do that."
Entrepreneur Bryan Grubert approached Zeal 40 for help expanding his Catalyst Communications answering service and to help launch a new tech start-up and says he was initially confused when conference calls with the agency talked more about personal interests than nuts and bolts business topics.
"They would ask us a series of questions that had nothing to do with anything we were talking about but it kind of gave them a sense of who we were, what we liked," he says.
From there Zeal 40 was able to identify the true goals and vision of the company and soon a brand image came together.
"They know what they want, it's getting out of them the little hints," Koenig says of the process.
Fariello likens the branding process to a funnel, starting out with a broad range of interests and ideas and narrowing them down until you have a vision for the company.
"They nailed exactly what we were looking for, nailed it," Grubert says of the process.
Starting with four employees in 2015, Zeal 40 now has a staff of 12 full and part-time workers and is looking to expand further in the coming years while also maintaining its personal touch.
The three-year plan will focus on keeping higher education clients, expanding its base of local companies and reach into the K-12 education market in Cincinnati, which features many prominent private schools.
"It's been very important to us to start to build a culture but only expand when we know we can," Koenig says. "We don't want to be this massive huge company with thousands of employees, but we definitely want to get bigger."