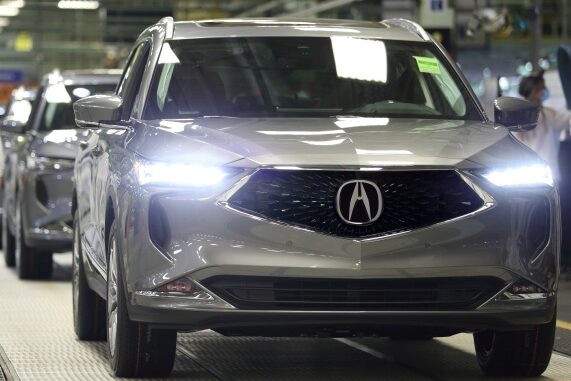 Honda's upscale SUV has new Anna-built engine
By Terry Troy
The new 2022 Acura MDX is rolling off the production lines at Honda's East Liberty Auto plant with a new engine built at Honda's Anna Engine plant where the company also has announced an investment of more than $200 million and the addition of 120 jobs. The Anna plant was a recent beneficiary of a $2.8 million economic development grant from JobsOhio to support the Anna expansion, a plant that has more than 3,000 employees.
Production associates at the Anna plant are building the 3.5-liter V6 engine for the new MDX as well as the 3.0-liter turbocharged V6 that will power the nameplate's Type S high performance variant set to arrive at dealers this summer. The new 2022 MDX is expected in dealerships as early next week.
Designed, developed and manufactured by a team of associates in Ohio and California, the 2022 MDX is underpinned by an all-new light truck platform engineered to deliver premium proportions, more athletic handling performance, refined ride comfort, exceptional cabin quietness and improved collision protection. Like all new Acura models, the 2022 MDX is built exclusively in Ohio.
"Our associates at the East Liberty Auto Plant are incredibly excited to showcase their expertise in craftsmanship and quality as they begin mass production of Acura's new flagship model, the 2022 MDX," said East Liberty Auto Plant General Manager Jun Jayaraman.
"To fulfill its new role as the flagship model of the Acura brand we had a clear focus on taking MDX to a higher level, a true revolution, that would evoke passion, excitement and emotion like never before," said Tom Nguyen, global development leader of the MDX.
The production team at the East Liberty Auto Plant implemented sophisticated manufacturing technologies to assure superior build quality and premium refinement for the 2022 MDX. It is the first model launched exclusively on East Liberty Auto Plant's new 5,000-ton servo (stamping) press, which allows for sharper sculpting of the hood and body panels while forming steel and increased amounts of aluminum. The ultra-rigid body is stiffer in every measure, created using a high-accuracy body weld process and new high-performance adhesive, and foundational to enabling MDX's finely tuned ride and handling qualities, as well as a quiet and more comfortable cabin.
Over the past 20 years, across three generations of development, MDX has established itself as America's all-time best-selling three-row luxury SUV, with sales of over one million units.
Since opening in 1985, the Anna Plant has grown from just 100 employees into Honda's second largest Ohio operation. The plant annually produces more than one million four-cylinder, V-6 and turbo engines for Honda auto plants throughout North America.
In related news, Honda Motor Company also recently announced that it is putting all of its auto manufacturing and development into one Marysville-headquartered organization with the formation of Honda Development & Manufacturing of America LLC, which will combine all of its automotive manufacturing facilities, purchasing operations and automobile development operations of Honda R&D Americas. The changes will be effective April 1, 2021.