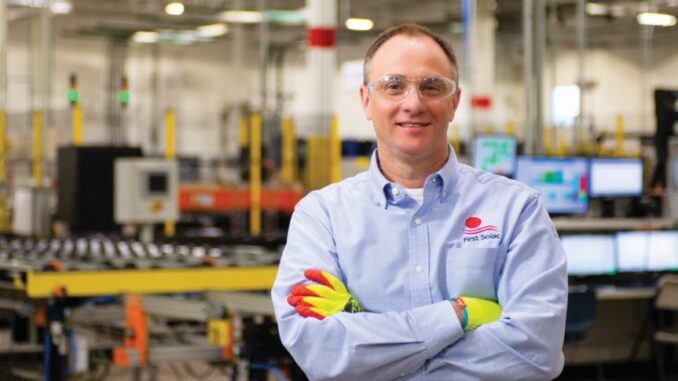 Ohio's independent colleges and universities play a big role in shaping Ohio's workforce and economy
By Corinne Minard
When thinking about the industries that comprise Ohio's economic ecosystem, its independent, private colleges and universities may not be the first thing that comes to mind. But with an annual economic impact of $2 billion, these schools play a big role in our state's economy.
The Ohio Foundation of Independent Colleges (OFIC), a nonprofit membership organization representing 33 independent, private colleges and universities across the state of Ohio, commissioned the economic impact study.
"Our member campuses have a combined enrollment of more than 80,000 students and represent a third of the college-going population," says Bill Spiker, president of OFIC. "Each of these colleges and universities generate economic value communities, and we wanted to elevate the presence of those economic impacts as a whole."
OFIC schools are able to have this impact because they offer a more personalized, liberal arts-based education than can often be found at larger public universities. Class sizes are small (the average is 12 students to one professor), campuses are more compact, and students who participate in athletics or the arts are encouraged to focus on their enjoyment of the activity without the pressure to make it into a career. Spiker says OFIC graduates often leave school with a more holistic education, having developed communication, problem solving and critical thinking skills while gaining expertise in their major.
"Something different happens on our campuses that is highly personalized to the student. The scale is very different and therefore it has a higher impact on the growth of the student," says Spiker. "And we feel that having that happen on a small, independent campus can make all the difference for many students."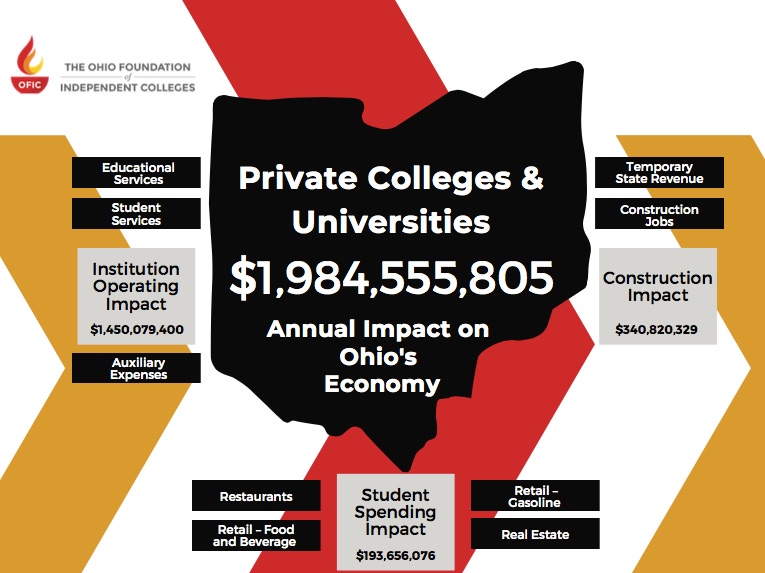 Mike Koralewski, chief manufacturing operations officer for First Solar, Inc., says these are the types of graduates First Solar wants in its Ohio workforce. First Solar, which is the only U.S company among the world's 10 largest solar manufacturers, has close to 6,500 associates globally, with about 1,500 working across its factories in Perrysburg and Lake Township, which together make up the largest solar manufacturing footprint in the Western Hemisphere.
"Ohio is extremely important for our labor force in all aspects. Our supply chain has headquarters here. Our R&D, our engineering and big aspects of our finance organizations are all in Ohio. Ohio is our manufacturing hub that supports all of the global operations," says Koralewski.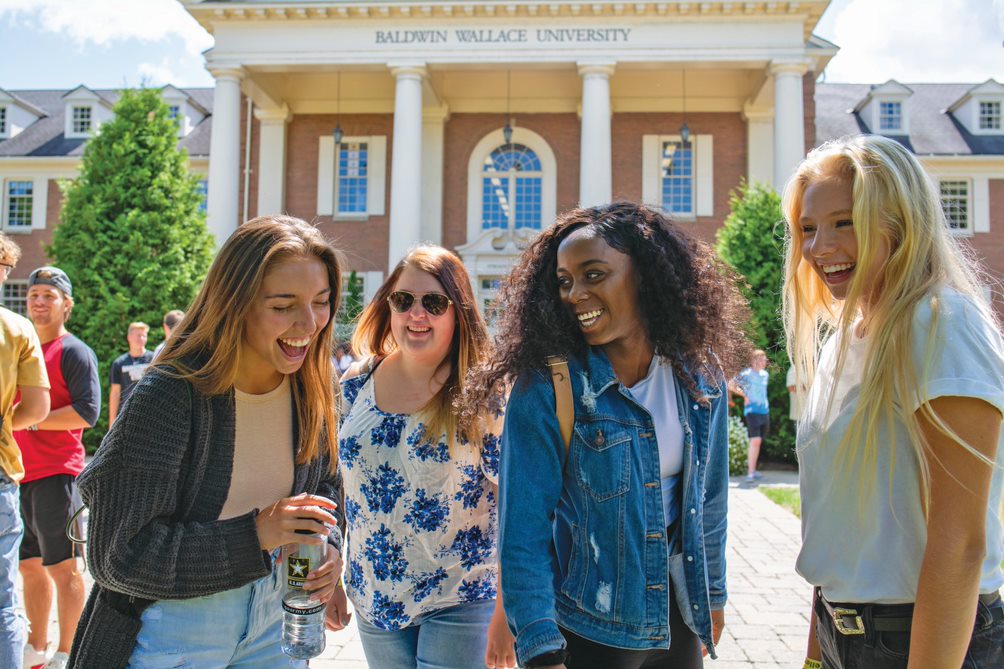 Businesses like First Solar can connect with students through OFIC in a variety of ways. They can attend the organization's annual career fair, called CareerFest, to meet with students and they can work with OFIC to develop scholarships designed to support students that meet specialized criteria determined by the business.
First Solar was introduced to OFIC by one of its supply chain partners, and saw the organization as an opportunity to help grow Ohio's pool of college-educated workers. The company developed scholarships for OFIC students in specific majors, such as engineering, the sciences and business, with the goal of supporting students attending nearby campuses in Northwest Ohio. First Solar has invited scholarship recipients to learn more about the company, to intern with them and even to join the company as full-time employees, but Koralewski sees the scholarships as much more than a possible talent pipeline to First Solar.
"By giving the scholarship to an individual, whether or not they come and work directly for our company, we're providing an opportunity for a student to get an education that maybe they wouldn't have been available to them without the financial aid," says Koralewski. "That scholarship opportunity in itself helps lead to a better economy. It helps us retain and grow talent inside of the communities that we exist in."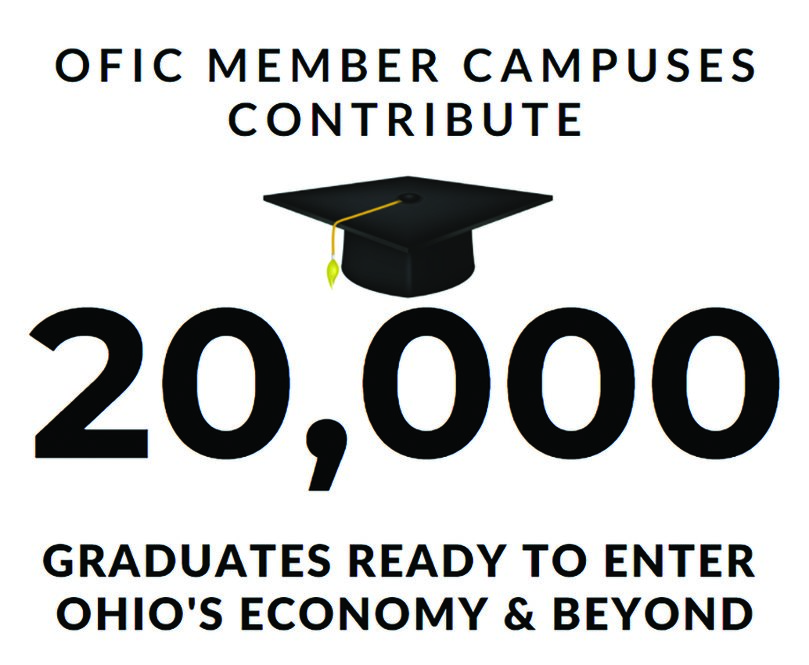 That's music to the ears of Spiker and the team at OFIC. Spiker says that one of OFIC's board members refers to talent as one of Ohio's natural resources, making it something worth investing in.
"How do we retain those students, whether they're Ohioans or folks that come to our member schools from out of state, how do we retain that in our workforce to grow, adding even more to the Ohio economy?" asks Spiker. "This talent is significant and it can even be more significant moving forward."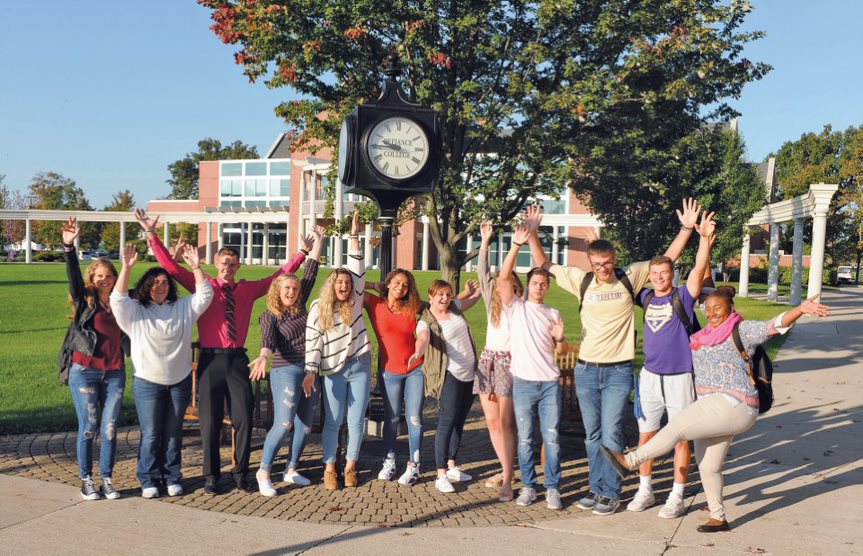 According to OFIC, 15,000 undergraduates at its member schools receive their degree each year and another 5,000 earn a degree from a graduate program, adding 20,000 graduates into Ohio's workforce each year. That's 20,000 more working adults that can help Ohio's economy continue to grow.
"We're strong, we're a very viable sector and we're making an impact," says Spiker of OFIC and its member schools.
To learn more about OFIC and its impact on Ohio's economy, visit ofic.org/impact.
By partnering with the Ohio Foundation of Independent Colleges (OFIC), Ohio businesses meet with potential future employees before they even graduate.
Bill Spiker, president of OFIC, says that many companies use OFIC to help educate students on different possible careers. One Fortune 200 company, for example, asked OFIC to help facilitate a virtual half day event at the business so the company could introduce OFIC students to the variety of careers within the organization.
"They were able to present different opportunities of working with the company and building awareness that, though it sounds like they do one thing, in reality they're a corporation. So they have all these potential careers right there within that one company," says Spiker.
According to OFIC, no matter their degree, most OFIC graduates are working in a business-related field within 10 years of leaving school.
Companies wanting to add to their workforce sooner rather than later may also find benefits in connecting with students while they're still in school.
"After four years, you're in the workforce quicker because you attend an independent private campus by a large measure," says Spiker. According to data collected by OFIC, 54% of students who attend an OFIC college or university graduated with a bachelor's degree in four years, compared to 36% of students at public universities.
This trend continues when looking at students of color, with 38% of students of color graduating with their bachelor's degree in four years at OFIC campuses compared to 23% graduating from publicly funded universities.
"The return on investment for our funders is that our students are great, bright, talented and in touch with today's world," says Spiker. "It's a terrific investment in terms of time and the resources for students and their families."
Ohio's Guide to Colleges & Universities