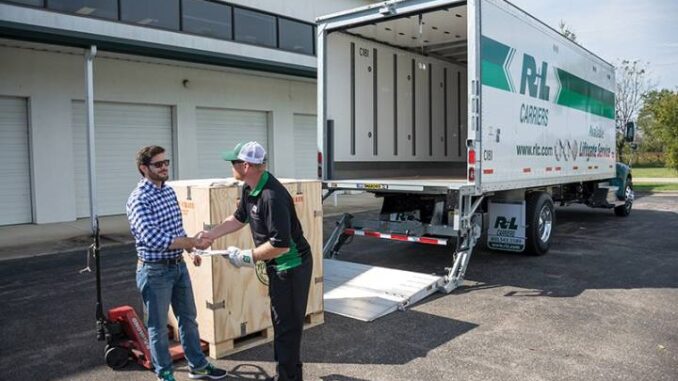 New transportation facility to create 199 new jobs
By Terry Troy
A leader in global freight transportation and logistics is building a new 120,000 square-foot facility in Northwest Ohio. R+L Carriers will invest more than $43 million to build a new transportation facility in Findlay, a project which is expected to create 199 new jobs.
Headquartered in Wilmington, OH, R+L Carriers is a Global Freight Transportation and Logistics company that has remained family-owned and operated since 1965. It is considered a leader in the Less-than-Truckload shipping and supply chain solutions industries.
The Ohio Tax Credit Authority has approved a Job Creation Tax Credit for the project.
"As we continue to assess our demand throughout the country, we have determined a need to allow for capacity in this region and to build another strategic location in Ohio," said Jeff Haungs, vice president, R+L Carriers.
R+L has a fleet of more than 20,000 tractors and trailers, with a nationwide network of over 140 service centers. The company already employs roughly 2,600 people in just Ohio.
The 205-door terminal will include a 5-bay drive-through shop and a 4-lane fuel island. R+L expects to start construction in February of 2022, with operations starting in early 2023.
The collaboration and support of economic development partners, including Findlay-Hancock County Economic Development, he Regional Growth Partnership and JobsOhio, led to a smooth process, earning the praise of Haungs.
"Working with all three entities has been great and probably one of the easiest groups of economic development professionals I have worked with across the country," he said.
In November, R+L Carriers continued its rapid expansion with the addition of the Omaha, NE, and Melrose Park, IL service centers. The new Omaha location is located north of the previous La Vista site, outfitted with newly built facilities to increase operational effectiveness. The new Melrose Park location will service the O'Hare area, providing easier freight access to the service center and faster linehaul transit.
These new facilities increase the R+L Carriers footprint while providing the operational infrastructure needed to enhance transit times and accommodate industry demand.
"R+L Carriers remains committed to providing customers with the operative advantages and business solutions required to be competitive in today's marketplace," said Bob Zimmerman, President of R+L Carriers. Despite unprecedented times, R+L continues to invest in our network while identifying ways to enhance operations to best support our customers evolving and long-term business plans."
Last year, R+L Carriers rolled out its No Signature Delivery for residential customers in order to provide greater flexibility and additional control for individual shipping needs.
The Regional Growth Partnership is the lead economic development organization serving 17 counties in Northwest Ohio. The RGP is dedicated to fostering regional, national and international business investment opportunities across the region. The RGP serves as Northwest Ohio's network partner for JobsOhio.