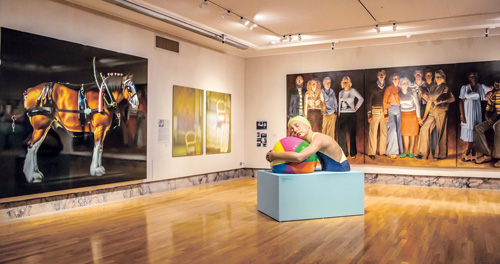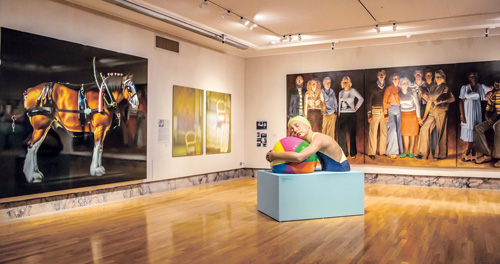 Unbuckling the Rust Belt
Art, Wineries and Outdoor Recreation Thrive in the Mahoning Valley
By Terry Troy
Talk about breaking through old stereotypes.
For many folks in our state, the mere mention of the Mahoning Valley area conjures up images of shuttered factories, padlocked gates and cracked concrete parking lots. But there's a flower breaking through the cracks of that old pavement that's blossoming into true economic growth.
Travel and tourism have grown into an integral component of the economy of the Mahoning Valley, every bit as important as heavy manufacturing. Travel generated $565.4 million in direct sales in 2017, according to a 2018 report generated by Tourism Economics, an Oxford Economic Company. (It's the latest date for which economic impact figures are available.) That number jumps to $855.5 million when you add indirect sales into the mix.
While heavy manufacturing has seen better days in terms of overall employment, the travel and tourism industries employed 9,531 people in 2017, with a total of $199.4 million in wages paid, making up 8.3 percent of total employment in the area.
And word is quickly spreading beyond the boundaries of the Mahoning Valley. For people in the know, the area has become a destination with endless opportunities for recreation and leisure. The area is also seeing increased visits to its many wineries, promoted through a wine trail on Youngstown Live.
"Mahoning Valley has become a wine lover's destination," says Linda Macala, executive director of the Mahoning County Convention & Visitors Bureau, which runs the website Youngstown Live. "Each of our wineries offers a unique atmosphere and experience that any wine enthusiast will enjoy. Our 'Wines of the Valley Wine Trail' was created to increase awareness of the great wineries in our area."
Hitting a major milestone this year, the world renowned Butler Institute of American Art is celebrating its 100th anniversary, reaching its zenith in October with a special celebratory gala. Known as "America's Museum," the museum's extensive collection has more than 20,000 individual pieces in all media, covering four centuries of work. It features works by Winslow Homer, Edward Hopper and John Singer Sargent, to name a few.
But there is also plenty to do for those who like the fresh air. And the weather is almost perfect in summer.
"We are known for challenging, well-maintained affordable golf courses," says Macala. "We have everything from a Donald Ross-designed course at Mill Creek [Park] to a links-style course, the Links at Firestone Farms in our area. And local hotels offer Stay-and-Play Packages."
Outdoor recreation is certainly a draw as well, notes Macala, with Mill Creek MetroParks offering miles of trails and other recreational opportunities right through Youngstown and beyond. Within the parks, visitors will find Fellows Riverside Gardens, one of the finest public display gardens in the country, along with Lanterman's Mill & Covered Bridge, perhaps Mahoning Valley's most historic landmark. The mill grinds wheat and corn as it did in the mid-1800s.
Hollywood Gaming at Mahoning Valley Race Course also features thoroughbred racing. More family-oriented entertainment can be enjoyed at OH WOW! The Rogers & Gloria Jones Children's Center for Science and Technology, as well as the Youngstown Historical Center of Industry and Labor.
The Covelli Centre and Stambaugh Auditorium bring national touring acts to Youngstown. In addition, the brand new Youngstown Foundation Amphitheatre will open this month, an outdoor option for concerts and other special events.
"It's adjacent to Covelli Centre and connected via a walkway through the new Riverfront Park," says Macala.
With easy accessibility via major interstates to markets like Cleveland and Pittsburgh, affordable lodging, great food and wines, and world class attractions, is it any wonder travel and tourism are growing in the Mahoning Valley?