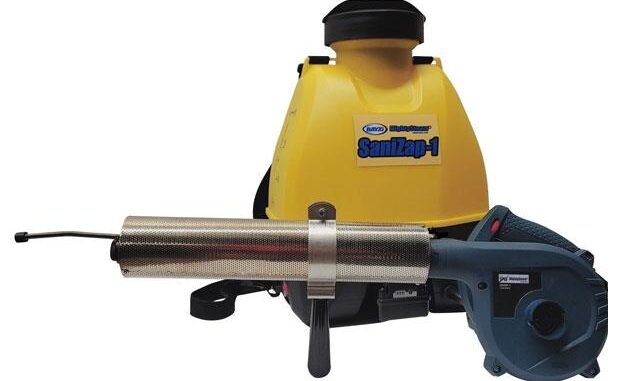 by Terry Troy
Bayzi Corp. of Woodlawn Village near Cincinnati has introduced a new product that will help sanitize surfaces, provide effective decontamination and microbial cleaning for workspaces.
Bayzi's SaniZap sanitizers use only water, eliminating the expense and accumulating residues from repeated use of common chemical sanitizers. The sanitizing devices are completely safe for the environment and for use around children, pets, kitchens, or other sensitive areas. Bayzi estimates that users can save more than 50% of the typical costs of sanitizing services with the purchase of a SaniZap device.
"There was so much interest in portable high-temperature steam devices due to the pandemic that our team pulled these products from the backburner and has been working hard to make this technology and the products available quickly," said Anu Vissa, COO of Bayzi. "We deeply appreciate the help from JobsOhio. and REDI Cincinnati in moving this effort into the production phase."
Micropyretics Heaters International Inc., the parent company to Bayzi, was first founded in 1995 and started doing business in Hamilton County Development Corporation's Business Accelerator. Both companies are now located in the Village of Woodlawn. Bayzi partnered with REDI Cincinnati and JobsOhio to support the expansion of its SaniZap sanitizing solution by working with the company to secure a JobsOhio Inclusion Grant.
"Over the last decade, more than half of all new businesses started in the country have been minority-owned and led, but they still struggle getting access to capital," said Brandon Simmons, REDI Cincinnati vice president of project management. "JobsOhio's commitment to supporting minority- and women-owned businesses through its Inclusion Grant is already paying dividends in Southwest Ohio with Bayzi serving as the perfect example of a company given an opportunity to grow and contribute to the region's economy and success. We're thrilled that they were selected for this grant."
This is the first JobsOhio Inclusion Grant announced in Southwest Ohio. The grant exists to provide financial support for eligible projects in designated distressed communities and for businesses owned by underrepresented populations across the state. The grant will support the creation of 15 new jobs and help Bayzi serve more customers looking for effective, convenient sanitation solutions for their workplace.
"Bayzi Corporation's growth of its cutting-edge steam sanitizer production in the Cincinnati region is a great example of how companies are evolving to find solutions during these challenging times," said J.P. Nauseef, president and CEO of JobsOhio. "This new product will bring 15 new jobs to the Village of Woodlawn and safer, cleaner options for Bayzi's growing customer base nationwide."