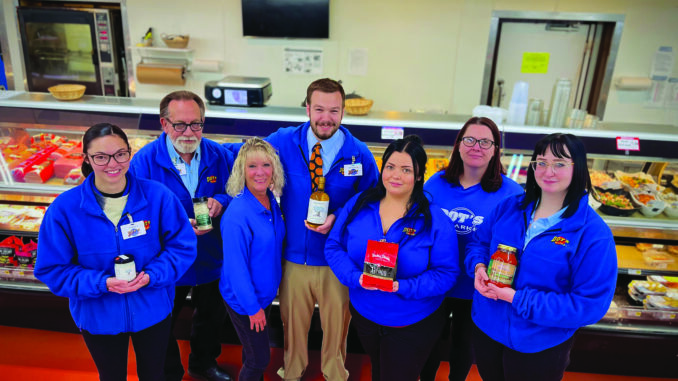 Dot's Market continues to thrive and grow
By Beth Langefels
When Dot's Market opened in Kettering in 1951 by third-generation grocer Robert Bernhard, Jr. the local grocery store landscape was vastly different than it is today. Most local suburbs and communities still had their own hometown markets, which were usually small and easy to navigate.
At the same time, larger, national chains were growing rapidly and eventually many of these smaller neighborhood markets would close forever as a result of this competition.
But not Dot's. In 1984, the second Dot's market opened in Bellbrook, catering to people who appreciated the quality products and the customer service, which the current owner, Nick Moshos, says has always been the company's main focus.
"We pride ourselves on customer service," Moshos says. "We focus on high-quality products and meats and always make sure our shelves are stocked and orderly."
Moshos is proud to say that he is now working at the same place where he began his first job—as a bag boy—when he was 16 years old.
"I became involved in Dot's management program and put myself through college," Moshos, who graduated from Wright State University with a degree in human resource management, says. "I always thought I would go off and work someplace outside of retail."
But after going on many job interviews, Moshos says he felt that first job at a local grocer calling him home. He found he missed the familiar faces of people he knew on a first name basis.
"I like surrounding myself with good people," Moshos says. "And that's what Dot's Market is all about."
Sept. 1, 2018, Moshos officially purchased the Kettering Dot's Market from long-time owner Bernhard. And, always wanting to "do something big," after college, he was able to purchase the Bellbrook store in March of 2021.
Moshos says it's that hometown feel and family environment that keeps folks returning to the local Dot's Market week after week. The stores are also known for their high-quality meats, broasted chicken and chicken salad.
"We see a lot of the same folks every day and they are like an extension of our own families," Moshos says. "We know a lot of our customers outside of work and really appreciate the strong sense of community."
And just in time for Dot's 72-year anniversary, Moshos is opening a third location at Cross Pointe Center in Centerville in the spring of 2023.
"It's time to grow and expand our brand," Moshos says. "It's a promise I made when I bought the stores."
The Centerville location will be the largest store, with 27,000 square feet compared with 20,000 each at Kettering and Bellbrook.
"We will have what we have always been known for and we are also expanding," Moshos says. "We will add more deli and produce, an in-house bakery, food court and a coffee bar."
Hiring for the new store will begin by year's end and Moshos is excited about building the team.
"We want to keep going together with the community in the future," Moshos says. "It's all about taking care of everybody who takes care of us. It's so rewarding to be in the grocery business."