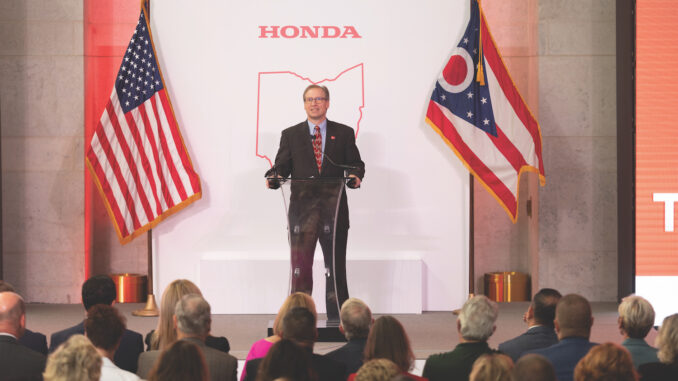 Honda announces new electric vehicle plant
By David Holthaus
Forty years ago, Honda began making cars in North America, choosing Ohio as its first automobile manufacturing site on the continent. Now, Ohio is at the forefront of the carmaker's next transformation, the electric vehicle revolution.
Honda plans to invest more than $4 billion to make Ohio the hub of its electric vehicle strategy. The bulk of that investment will be $3.5 billion to build a new plant to make electric vehicle batteries in Jeffersonville, about 70 miles northeast of Cincinnati in Fayette County. That project will be a joint venture with LG Energy Solution, a Seoul, South Korea-based company that also is a partner in battery ventures with carmakers General Motors and Hyundai, among others. That plant is expected to employ 2,200 people, who will make batteries that supply Honda auto plants around North America.
Honda also plans to spend $700 million to retool three existing Ohio plants for its electrified future. Its engine plant in Anna, Ohio, will be expanded to make battery cases. Those will be assembled with the battery modules from Jeffersonville at Honda's Marysville plant, and then installed into electric vehicles at the Marysville plant and at its East Liberty, Ohio, factory. The expansions in Anna, Marysville and East Liberty are expected to add 300 jobs, Honda says.
The investments will make central Ohio the focal point of Honda's blueprint for its future.
"As we looked at how to take on the challenge of EV production in North America, it became clear that the experience, expertise and the resources we have established in Ohio should serve as the starting point for the roll-out of EV production throughout North America in the coming years," says Bob Nelson, executive vice president of American Honda Motor Co., Inc.
Honda produced and sold more than 100,000 electrified vehicles in the U.S. last year, including the Accord Hybrid, CR-V Hybrid and Insight hybrid sedan. The carmaker plans to begin electric vehicle sales in 2024 with its Honda Prologue and Acura ZDX, two fully electric SUVs the company is co-developing with GM.
Its larger vision is to make battery-electric and fuel cell electric vehicles represent 100% of its new vehicle sales in North America by 2040.
The Ohio electric vehicle hub "will create the expertise for EV production that we will share with our other Honda auto plants," Nelson says.
Construction on the Jeffersonville battery plant is expected to begin in early 2023 at a 1,500-acre site at Interstate 71 and U.S. 35. Honda has a goal of beginning mass production of advanced lithium-ion battery modules there by 2025.
Honda's history in Ohio actually dates back 45 years to 1977, when it chose Marysville as the site of its motorcycle plant. In 1982, it began producing Accords in Marysville. The Anna engine plant opened in 1985, and now produces more than 1 million engines for Honda auto plants throughout North America. The East Liberty plant opened in 1989 and has manufactured more than 4.5 million Honda and Acura vehicles since then. Honda also has a major product development center in Raymond, Ohio, near Marysville, where engineers design many of the vehicles built in the state.