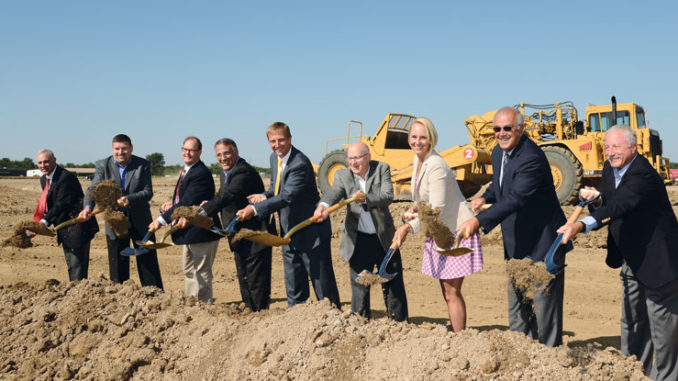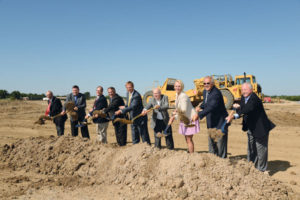 Northwest Ohio
Campbell places Midwest distribution hub in Findlay
Campbell Soup Co. is looking to add 220 jobs to Hancock County when its new $44 million distribution center opens next year. The company broke ground on the new site Aug. 8. The Findlay site will serve as the Midwest hub for distribution of products.
DHL Supply Chain will operate the 740,000-square-foot facility. The Findlay center will serve as a distributor for the company's manufactured products, such as Campbell's soups, Swanson broth and stock, V8 beverages, Pace, Prego and Plum Organics.
According to Campbell, the company is investing $40 million in the building and the land and $4 million in the machinery and equipment. The center is set to open in Spring 2018.
– Corinne Minard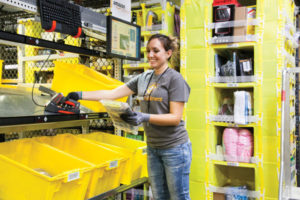 Northeast Ohio
Amazon announces new fulfillment center
in North Randall
Amazon announced plans Aug. 25 to build an 855,000-square-foot fulfillment center in North Randall on the location of the former Randall Park Mall.
The company expects to create 2,000 full-time positions with the center. Amazon currently employs 4,500 full-time associates in Ohio at its current fulfillment centers in Etna and Obetz.
According to a press release from Amazon, the employees at the new center will pick, pack and ship smaller customer items, such as electronics, toys and books, with assistance from robots.
Amazon has partnered with Seefried Industrial Properties to build the $177 million facility. The center is currently expected to open in the second half of next year.
– CM
Central Ohio
Companies innovate with local resources
After selling their business in 2013, Todd and Mike Feazel have restarted operations. June marked the opening of Roof Maxx, "a powerful fusion of science and nature." The Feazel brothers have an "all-natural, soy-based shingle rejuvenator" designed to extend the lifespan of aging roofs. According the to the company, for about 15 percent of the cost of a new roof, the spray can extend the roof's life by 5 years.
The Ohio Soybean Association provides research and development to Roof Maxx to help ensure a safe, well-tested product. Ohio State University also helps with the advancement of the new spray.
The Feazels say the secret to the spray is the soybeans. The soy oil restores flexibility to and waterproofs brittle, dry and cracked shingles.
Extending the lives of roofs saves it from an entire roof replacement, which can negatively affect the environment. Asphalt makes up about 10 percent of construction and demolition debris in U.S. landfills. Preventing this is another goal for Roof Maxx and its Soy-Fusion Technology.
Roof Maxx is sold through different authorized dealers in the U.S. and Canada.
– Calli Whaley
Southwest Ohio
Malls finding ways to bring new shoppers in
Coming soon, the Washington Prime Group is bringing new things to the Dayton Mall and the Mall at Fairfield Commons. Malls are centers for traditional shopping, and to bring shoppers back, changes are being made.
Washington Prime Group says it is trying several things to get people to malls around the country. "We are redefining our properties as the town centers within their communities by continuously adding uses outside of the traditional shopping center experience," Washington Prime says. Some new concepts to come are Shelby's Sugar Shop, a new store selling candies; Amazon Lockers, which are designed for people to pick up their packages at the mall; Treasure Trucks, which offer a treasure hunting experience; brew pubs and a new food court; and art galleries.
"Successful innovation can manifest itself in a variety of ways. Within our space, it boils down to whether or not we are improving the logistics, distribution and delivery of goods and services, and, as importantly, enhancing the experience for our guests," says CEO and Director Lou Conforti. "It is imperative we practice both art and science, as well as common sense as to what our demographic constituencies desire.
– CW
Southeast Ohio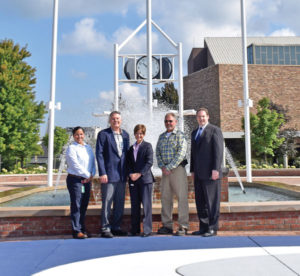 AEP Foundation funds new ideas in Portsmouth
Shawnee State University is looking to renovate buildings in downtown Portsmouth, thanks to some help from the American Electric Power Foundation.
The AEP Foundation has pledge $200,000 to SSU's Innovation Accelerator Project. The first $100,000 was presented to the school Aug. 8. The Accelerator project aims to create a space that will serve students, businesses and community leaders alike by serving as a meeting location for government and businesses as well as providing a place where students and citizens can innovate as entrepreneurs. It will also serve as an outlet for outreach programming.
"Collaboration is essential for innovation. We are pleased to support Shawnee State University in its endeavor to create a collaborative workspace in the heart of Portsmouth," said Julie Sloat, AEP Ohio president and chief operating officer, in a press release. "Breathing new life into these buildings and creating spaces that provide access to advanced technology provides an environment where the people of Portsmouth can come together to share their diverse talents and ideas."
– CM