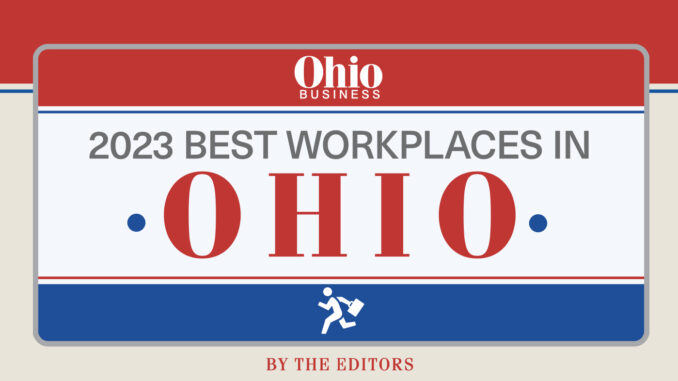 By the Editors
Ohio is as full of successful and diverse workplaces as it is brimming with vibrant, unique communities. For our eighth annual Best Workplaces in Ohio, Ohio Business Magazine has selected 67 businesses and organizations, large and small, that demonstrate what makes the state a great place to work. From generous benefits and, dare we say, fun offices to serious commitment to the betterment of employees and the communities these workplaces reside in, the Best Workplaces in Ohio each demonstrate a lot of wonderful qualities to current and potential future employees.
Companies with less than 50 employees
| Company Name | Location | Full-time Ohio Employees | Type | Year Founded |
| --- | --- | --- | --- | --- |
| Dyke Yaxley LLC | Cleveland | 4 | Private | 2011 |
| Cincinnati School of Music | Mason | 4 | Private | 2012 |
| Ernst & Associates, LLC | Cincinnati | 5 | Private | 1996 |
| Clinton County Port Authority | Wilmington | 5 | Government | 2004 |
| Zeal40: the creative agency | Cincinnati | 5 | Private | 2015 |
| Schmidt Auto Care | Springboro | 7 | Private | 2009 |
| A Slice of HR | Mason | 7 | Private | 2017 |
| Harvest Tax & Accounting | Mason | 7 | Private | 2020 |
| Ohio Geese Control | Rocky River | 8 | Private | 2004 |
| Spider Logistics | West Chester | 9 | Private | 2018 |
| Big Idea Group LLC | Cincinnati | 10 | Private | 2016 |
| Black Bull Capital Partners | Cincinnati | 10 | Public | 2019 |
| 42connect Inc. | Cleveland | 11 | Private | 2022 |
| Tailwaggers Doggy Daycare | Cincinnati | 12 | Private | 2016 |
| Holland Adhaus | Cincinnati | 14 | Private | 1937 |
| West Ohio Tool Co. | Russells Point | 15 | Private | 1989 |
| Differential | Cincinnati | 15 | Private | 2013 |
| Solid Blend Technologies, Inc | Dayton | 17 | Public | 1999 |
| Beneficial Talent Source | Milford | 17 | Private | 2011 |
| Ohio Restaurant Association | Columbus | 19 | Nonprofit | 1920 |
| Alliance Integrative Medicine | Cincinnati | 22 | Public | 1999 |
| The Ohlmann Group, Inc. | Dayton | 25 | Private | 1949 |
| OIA | Columbus | 26 | Nonprofit | 1897 |
| Brigid's Path | Kettering | 26 | Nonprofit | 2017 |
| Vigilant | West Chester | 30 | Private | 2004 |
| Keystone Technology Consultants | Akron | 31 | Private | 1993 |
| Kirsch CPA Group | Hamilton | 33 | Public | 1991 |
| Staub Manufacturing Solutions | Dayton | 40 | Private | 1997 |
| Side Effects Inc. dba Power Ad Company | Franklin | 43 | Private | 1996 |
| AtNetPlus | Stow | 45 | Private | 1998 |
| Sapphire Creek Winery & Gardens | Chagrin Falls | 45 | Private | 2018 |
| Superior Dental Care | Centerville | 48 | Private | 1986 |
| Elite Biomedical Solutions | Cincinnati | 49 | Private | 2012 |
Companies with 50-200 employees
| Company Name | Location | Full-time Ohio Employees | Type | Year Founded |
| --- | --- | --- | --- | --- |
| Custom Design Benefits | Cincinnati | 65 | Private | 1991 |
| T&M Associates | Columbus | 67 | Private | 1966 |
| Hunter International Recruiting | Avon | 67 | Private | 2006 |
| Marriott at the University of Dayton | Dayton | 75 | Private | 1982 |
| Saint Ursula Academy | Cincinnati | 90 | Nonprofit | 1910 |
| LendKey | Blue Ash | 100+ | Private | 2009 |
| Miller's Rental & Sales | Akron | 103 | Private | 1949 |
| HW&CO. | Beachwood | 110 | Partnership | 1990 |
| LeaderStat | Powell | 117 | Private | 2000 |
| Barnes Dennig | Cincinnati | 118 | Partnership | 1965 |
| ODW LTS | Hamilton | 125 | Private | 2009 |
| Fahlgren Mortine | Columbus | 129 | Private | 1962 |
| OneDigital | Sandusky | 145 | Private | 2000 |
| City of Sharonville | Sharonville | 180 | Government | 1788 |
| Meaden & Moore | Cleveland | 188 | Partnership | 1919 |
Companies with more than 200 employees
| Company Name | Location | Full-time Ohio Employees | Type | Year Founded |
| --- | --- | --- | --- | --- |
| GBQ | Columbus | 207 | Public | 1953 |
| Aeroseal | Miamisburg | 208 | Private | 1997 |
| Fleet Response | Hudson | 250 | Private | 1986 |
| Hollywood Gaming at Dayton Raceway | Dayton | 251 | Public | 2014 |
| Reminger Co. LPA | Columbus | 281 | Private | 1958 |
| The Urology Group | Cincinnati | 300 | Private | 1996 |
| Ascendum Solutions | Cincinnati | 300 | Private | 2008 |
| Cincinnati Incorporated | Harrison | 315 | Private | 1898 |
| Hollywood Gaming at Mahoning Valley Race Course | Austintown | 350 | Public | 2014 |
| London Computer Systems (LCS) | Cincinnati | 358 | Private | 1987 |
| Miami Valley Gaming | Lebanon | 420 | Private | 2013 |
| Deceuninck North America | Monroe | 504 | Public | 1969 PURCHASED BY DECEUNINCK IN 1995 |
| Goodwill Easterseals Miami Valley | Dayton | 620 | Nonprofit | 1934 |
| Express Wash Concepts/Flying Ace Car Wash | Reynoldsburg | 636 | Private | 2014 |
| American Modern Insurance Group | Amelia | 800 | Public | 1949 |
| UC Health West Chester Hopsital | West Chester | 1,200 | Nonprofit | 2009 |
| Wright-Patt Credit Union | Beavercreek | 1,295 | Nonprofit | 1932 |
| Park National Bank | Newark | 1,794 | Public | 1908 |
| UC Medical Center | Cincinnati | 5,820 | Nonprofit | 1823 |
Nomination Process
For the 2023 Best Workplaces in Ohio, a link to a nomination form was emailed to businesses and people throughout the state and subscribers of Ohio Business Magazine, inviting them to self-nominate. A form was also posted online so that other businesses could participate. For-profit, nonprofit and government institutions were able to self-nominate. Nominees were asked to provide details about their workplace, benefits and interactions with the community. The winners were then selected by committee. If you are interested in nominating your company next year, subscribe to Ohio Business Magazine and its newsletter (both of which are complimentary) at OhioBusinessMag.com.
Cincinnati Incorporated
Machine manufacturer
Harrison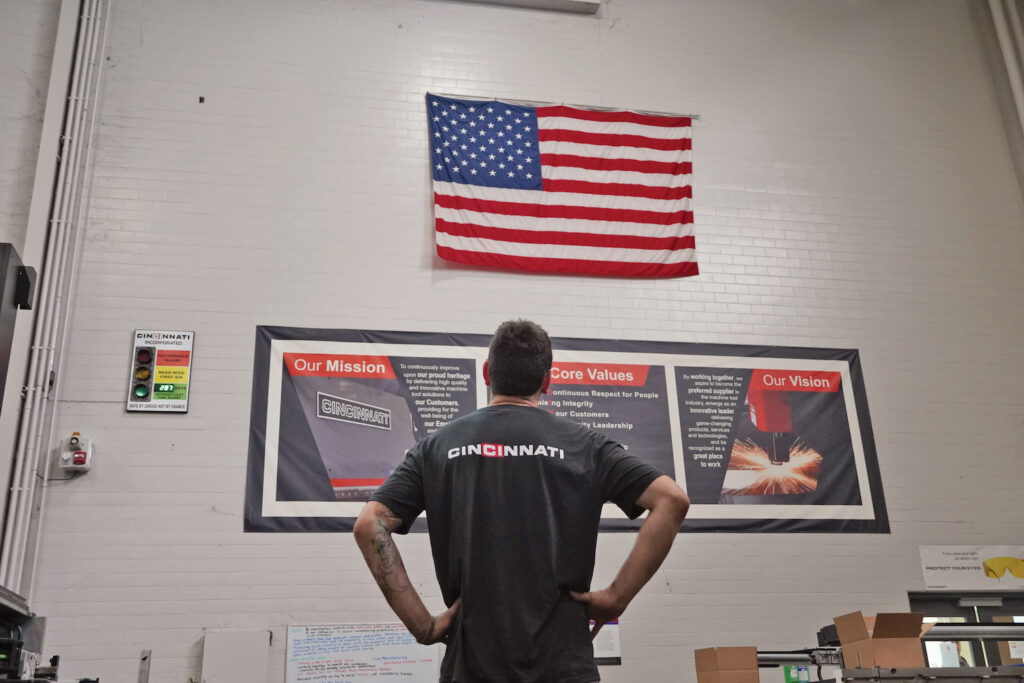 How has the company impacted the community?
One of CI's core values is community leadership. CI willingly supports the well-being of our community through active volunteerism and philanthropic support. The company regularly sponsors the region's Flying Pig Marathon, and has 3D printed and donated giant 26.2 and 13.1 metal displays for photo ops for participants. For this annual event, CI sponsors its employees to participate and also extends the benefit to direct family members, helping charitable entities and promoting employee wellness.
– Donna Szarwark, Vice President, Human Resources
Clinton County Port Authority
Economic development organization
Wilmington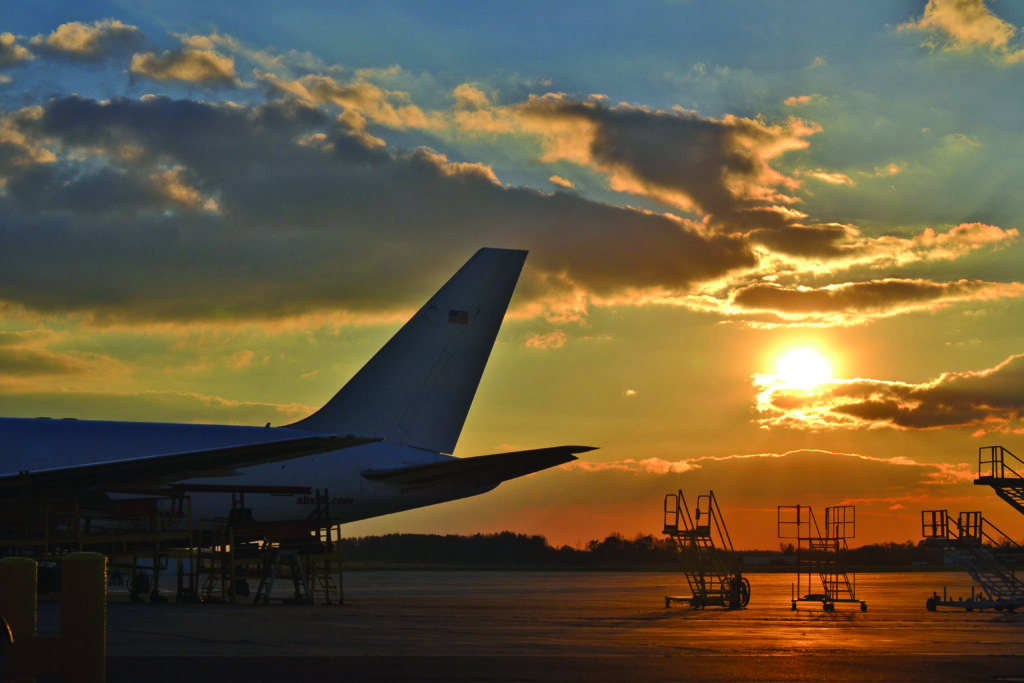 How does the organization engage with employees?
2022 was a challenging year for the Clinton County Port Authority, as we unexpectedly and suddenly lost staff members, and were severely short-staffed for the majority of the year as a result. The strong organizational team culture and the value that has always been placed on the contributions of all employees were invaluable assets during this time. Those in leadership roles throughout the year—the former, acting and new executive directors, as well as the board chair—all maintained an "open door" policy for suggestions, complaints, accolades, etc., which allowed the staff to not only maintain operations, but garner continued successes toward our mission of strengthening and growing the economy of Clinton County.
– Ruth Brindle, Workforce & Data Specialist
Deceuninck North America
PVC window and door manufacturer
Monroe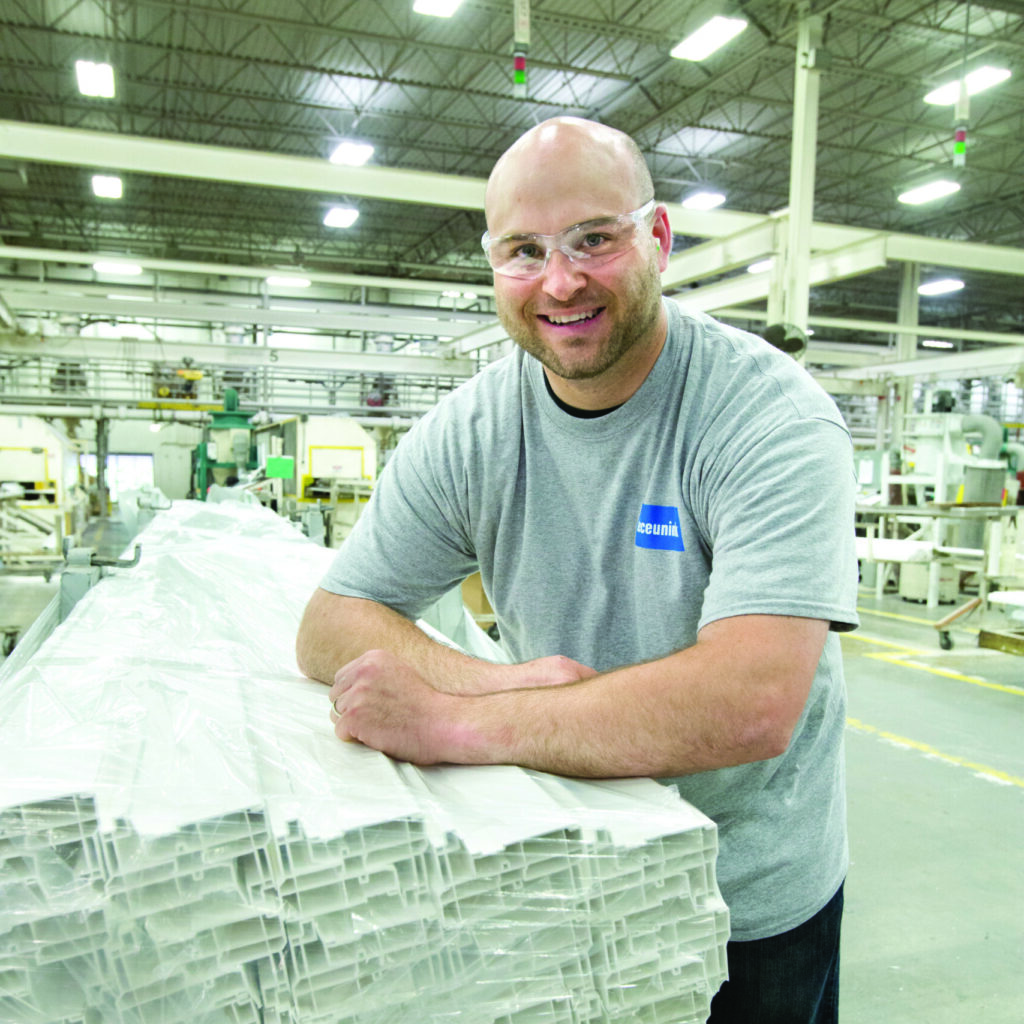 How has the company impacted the community?
Deceuninck's commitment to building better homes and buildings extends to the neighborhoods where its employees live and work. Through Compassion for Community and Causes (C3), a volunteerism initiative, employees are encouraged to be involved in activities that improve the quality of life in their communities. In 2022, Deceuninck and its team volunteered at local schools and held several drives to provide toiletries and toys for local shelters. In the last year, employees supported a variety of causes, ranging from Habitat for Humanity of Greater Dayton, Wreaths Across America, Junior Achievement and local blood drives. The C3 also raises funds to assist their own through an employee hardship fund. A number of Deceuninck employees also volunteer with local schools and sports teams at recreational and high school levels.
– Diane Hansbury, Marketing Manager
Differential
Digital products company/software development
Cincinnati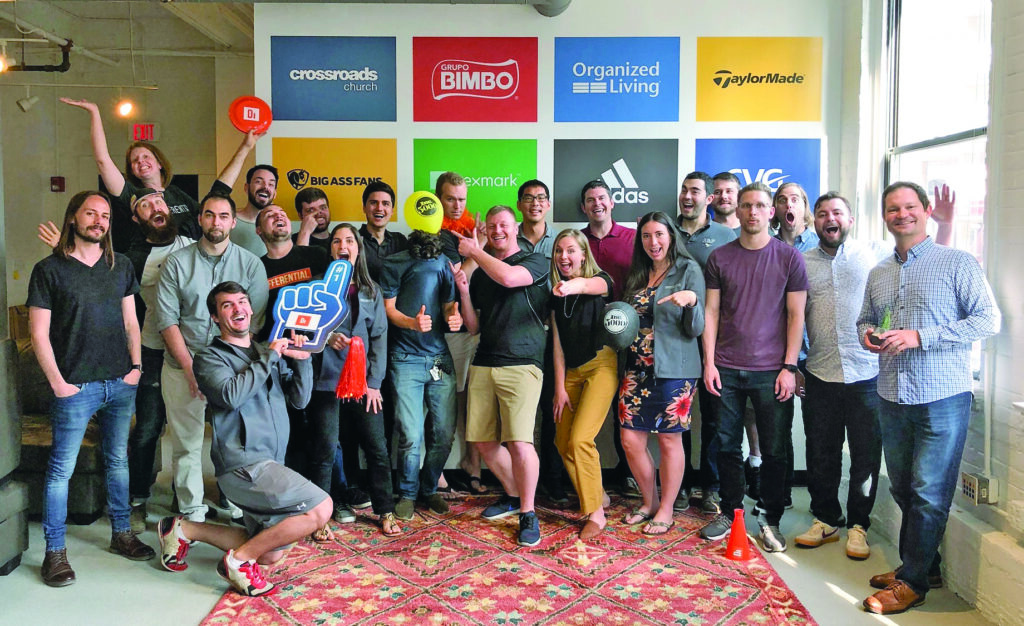 What are some of the unique benefits offered by the company?
Differential values long-term employment and strives to be a place where people with a passion for building digital products can grow and sustain their career. We have an Alliance Framework to support team members in their career path. Everyone has a Work Coach and an Alliance Coach who are advocates and help aid growth through regular one-on-one meetings. In the spirit of our coaching culture, the Work Coach provides guidance on employees' day-to-day work, while the Alliance Coach will provide insights on career growth at Differential more broadly.
– Lauren Ralston, Marketing Strategist
Fleet Response
Fleet management services
Hudson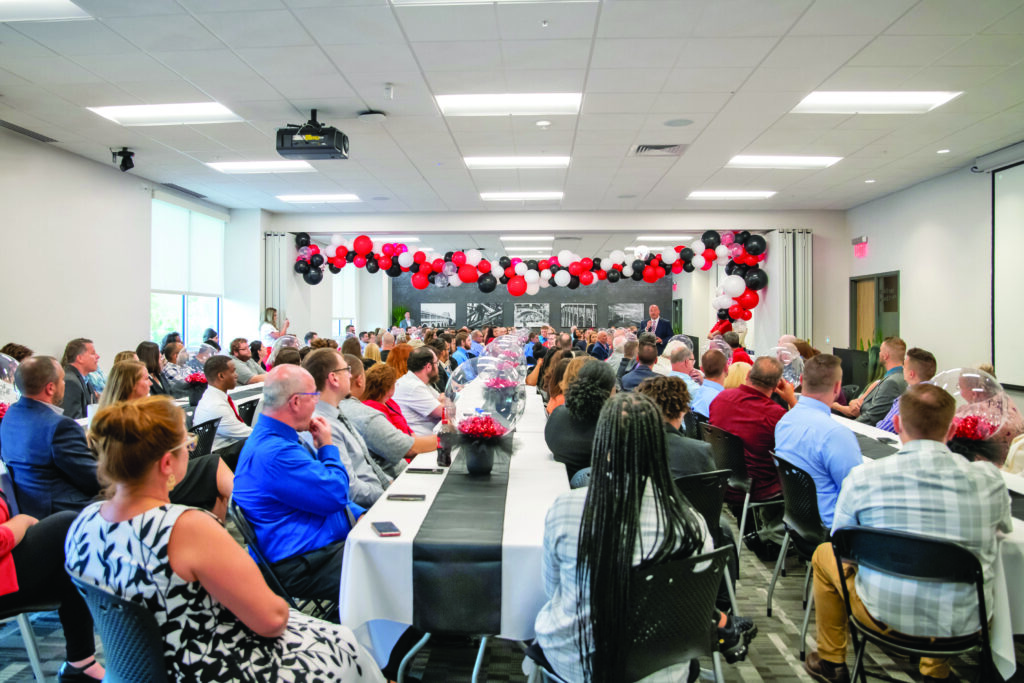 How does the company engage with employees?
Fleet Response strives to engage with employees in a variety of ways. One of the main channels of engagement is in the form of an internal communication platform used via Microsoft Teams called The Communicator. The Communicator was created as a result of the 2020 pandemic in effort to keep employees up to date on company news, announcements and to stay connected while working remotely. For example, Fleet Response created Feel Good Friday—one Friday of each month, employees are asked to share something positive happening in their life. Fleet Response also holds raffles, employee open house events, charity competitions and an annual employee of the year ceremony in which one finalist from each department is recognized and awarded with a $1,000 check, and the employee of the year is awarded with a $5,000 check.
– Bill Keller, Marketing Coordinator
GBQ
Tax, accounting and consulting firm
Columbus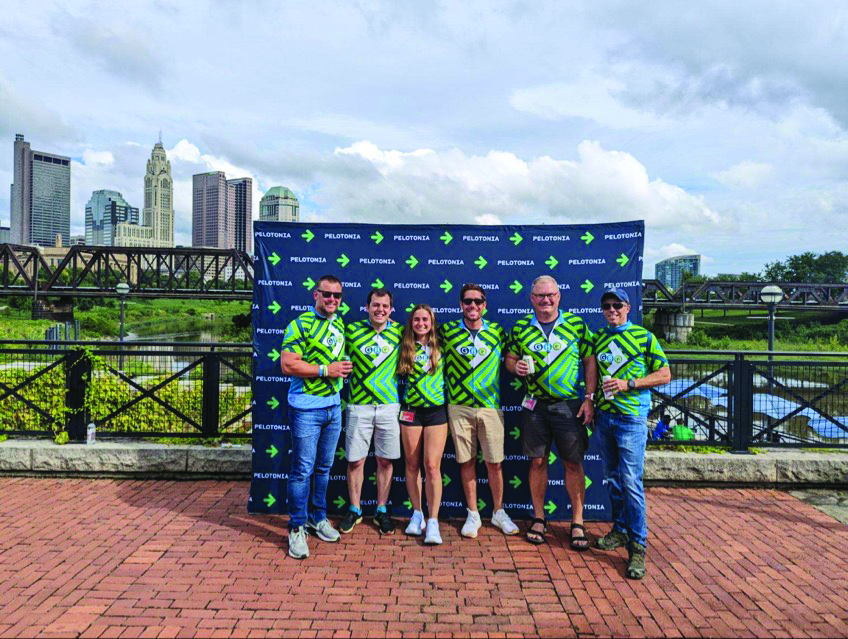 How does the company engage with employees?
We know that when our people flourish, our communities can thrive and business grows. At GBQ, we aim to empower people to grow to their full potential, regardless of race, sexual orientation, religion, age, gender, disability or any other indication of diversity. A professional development and networking group, wGBQ, was formed to enhance the recruitment, retention and advancement of women within the firm. Additionally, we remain committed to creating an inclusive workplace where diversity is valued and celebrated—GBQ's Diversity, Equity & Inclusion Committee works to accelerate diversity and inclusion to foster an inclusive culture and empower a sense of belonging. Additional committees that exist to promote collaborate and contribute to GBQ's unique culture include Green Team (environmental issues and sustainability efforts), Fun & Victory (quarterly employee recognition events), GBQ Olympics (team-building activities throughout tax busy season), Community (coordinate events throughout communities we're proud to serve), Alumni (maintains meaningful connections with GBQ alumni), Health & Wellness (organizes and encourages healthy behaviors and wellness initiatives), Sports (coordinate teams through local sporting leagues), and Firm Meeting Fun (transform meetings into meaningful gatherings through engaging activities and entertainment that showcase our unique associates and culture).
– Katherine Koon, Marketing Senior Manager
Goodwill Easterseals Miami Valley
Social services nonprofit
Dayton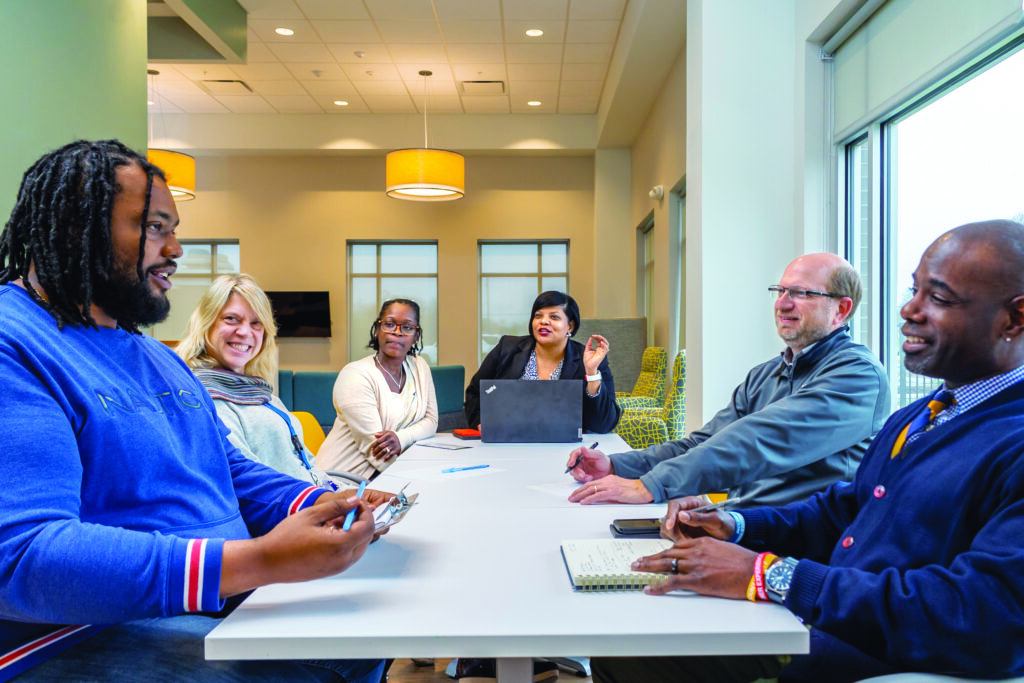 What are some of the unique benefits offered by the company?
GESMV goes beyond the typical benefits and offers a unique program called H.E.A.R.T. The program stands for Helping Employees Achieve Results and Triumphs. A team works to help employees move closer to their goals and dreams, improving their quality of life.
How H.E.A.R.T. works: The employee makes an appointment with the H.E.A.R.T. team member. They in turn go to the individual's work location to meet. The employee does not clock out for the time spent. It is a benefit to the employee and everything is confidential.
– Cindy Carusone, PR/Donations Manager
HW&CO.
CPA and advisory firm
Beachwood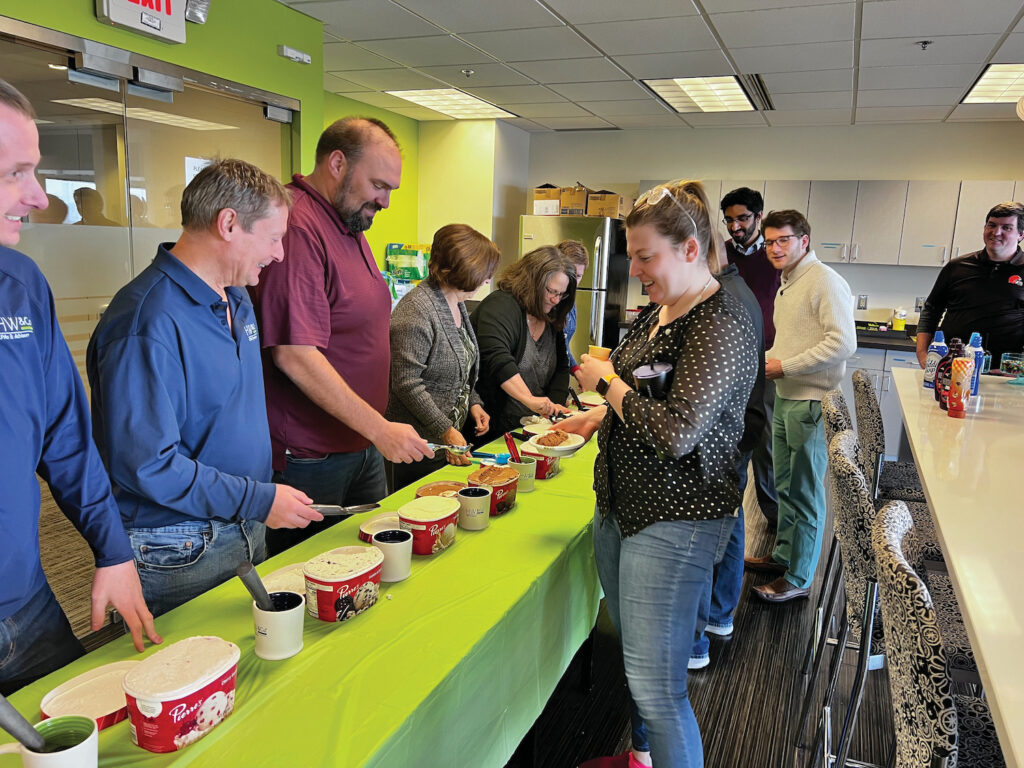 How does the company impact the community?
Nonprofit organizations represent a large part of our client base. Through these client relationships, our employees have a variety of opportunities to engage in community-based events that help in the promotion and fundraising of these organizations. The industries in which our firm has significant focus, namely nonprofit and assisted living, help create a connection with a broader purpose for our employees. Additionally, we strongly support our employees getting involved in local nonprofits and demonstrate this by having employees participate in Business Volunteer Unlimited's Linking New Leaders, which connects young professionals with nonprofit boards and committees. Throughout the year, it is common for employees to bring causes for volunteerism and fundraising to the firm, and we typically see significant participation from all of our employees, across all of our offices.
– Phyllis Sossi, Marketing Director
Kirsch CPA Group
Public accounting firm
Hamilton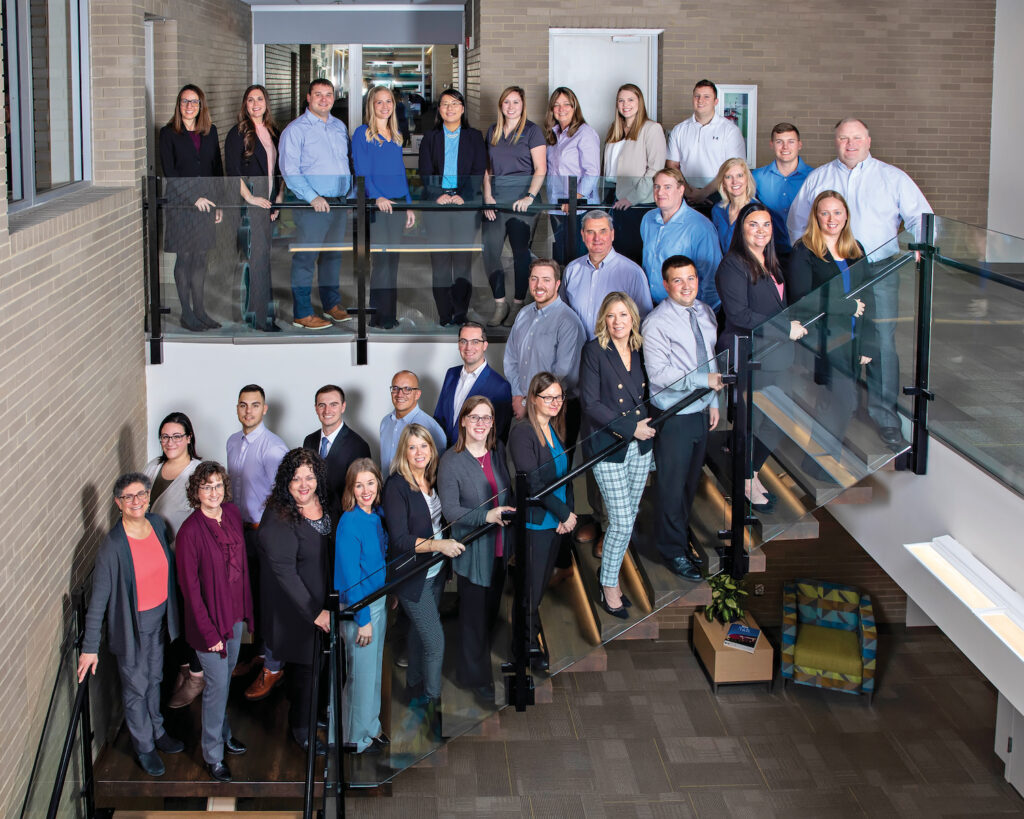 What are some of the unique benefits offered by the company?
Since its inception in 1991, Kirsch CPA Group has provided a flexible workplace for our team. Starting in 2010, we offered the ability to work remotely as part of our benefits. Our firm makes a concentrated effort to help each team member maintain a work-life balance including working 53-hour weeks during our industry's busy season, which standard is typically 60-plus hours. Each team member has the opportunity for diverse experiences that allow exposure to the many areas in the accounting industry to grow in skillset and identify their interests. We offer continuing education benefits of CPE training, soft-skill training and continuous feedback by peers and direct line reports. Our team can advance at their speed of discretion and interest with the opportunity for a pathway to partnership.
– Diane Glover, Director
LendKey
Lending platform and online marketplace
Blue Ash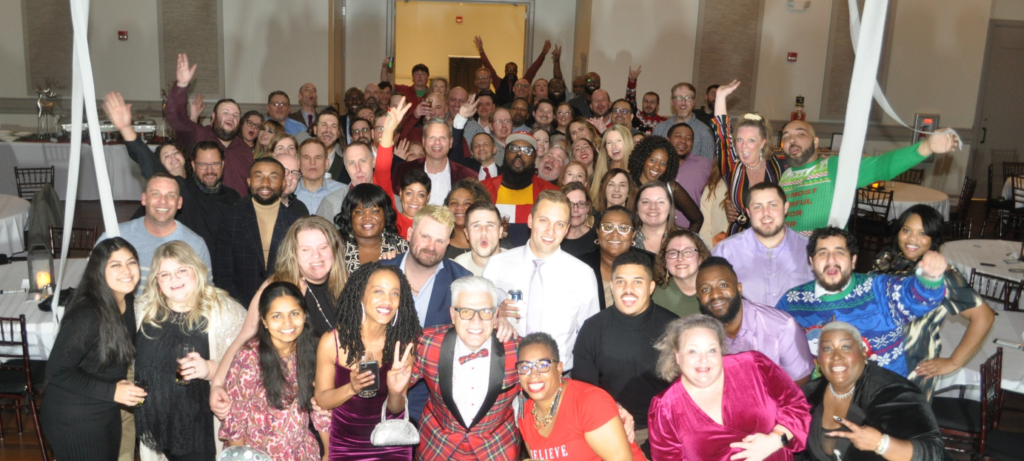 How does the company engage with employees?
LendKey prides itself on their employee initiatives ranging from wellness to DEI. LendKey promotes the importance of employee well-being and offers a wide variety of resources including EAP, gym or other wellness subscription reimbursement; rewards for wellness activities; meditation app; virtual physical therapy; life coaching; and more. We have regular meetings to discuss not just the business, but celebrate wins, share wellness tips and techniques, trivia meetups, team building activities and more. LendKey created a DEI Advisory Council and resource center to promote an inclusive workplace. They bring in speakers and have roundtable discussions led by the CEO where all opinions are viewpoints are welcome to the discussion so we can all learn and grow together while understanding where people are coming from.
– Michelle Asher, Senior Public Relations Manager
The Ohlmann Group, Inc.
Full-service marketing agency
Dayton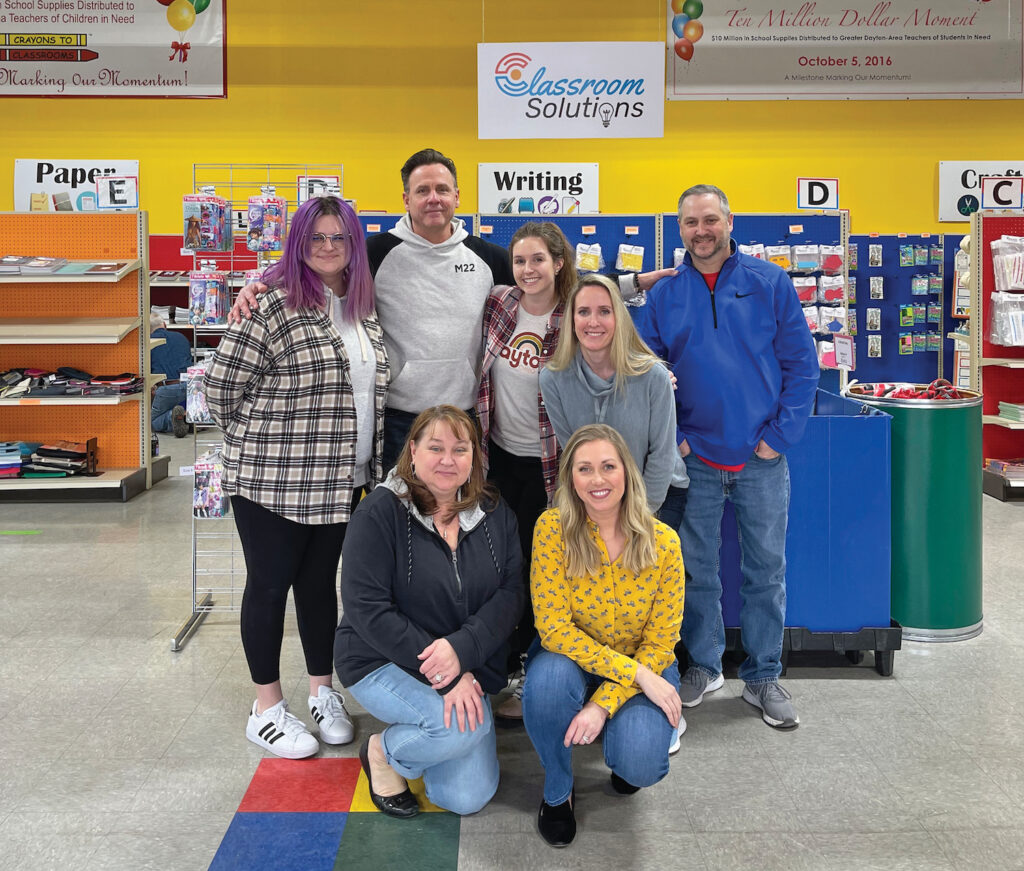 How does the company engage with employees?
One of our biggest values is giving back to others, and we believe that fostering employee engagement goes hand-in-hand with community involvement. That's why, each month, we schedule half-day volunteer opportunities so small groups of employees can give back during the workday. Dubbed "OG Gives Back," we've volunteered in recent months to pack food kits for kids at The Foodbank, to create free resources for teachers at Crayons to Classrooms, to assemble Thanksgiving meals at Miami Valley Meals and to clean parts of the family shelter at St. Vincent de Paul.
When gathered in the office, the Ohlmann Group supports a positive work culture through company-wide celebrations, lunch-and-learn events, and employee recognition for anniversaries, milestones and achievements.
– Evelyn Ritzi, Content Marketing Manager
STAUB Manufacturing Solutions
Full-service production metal fabrication company
Dayton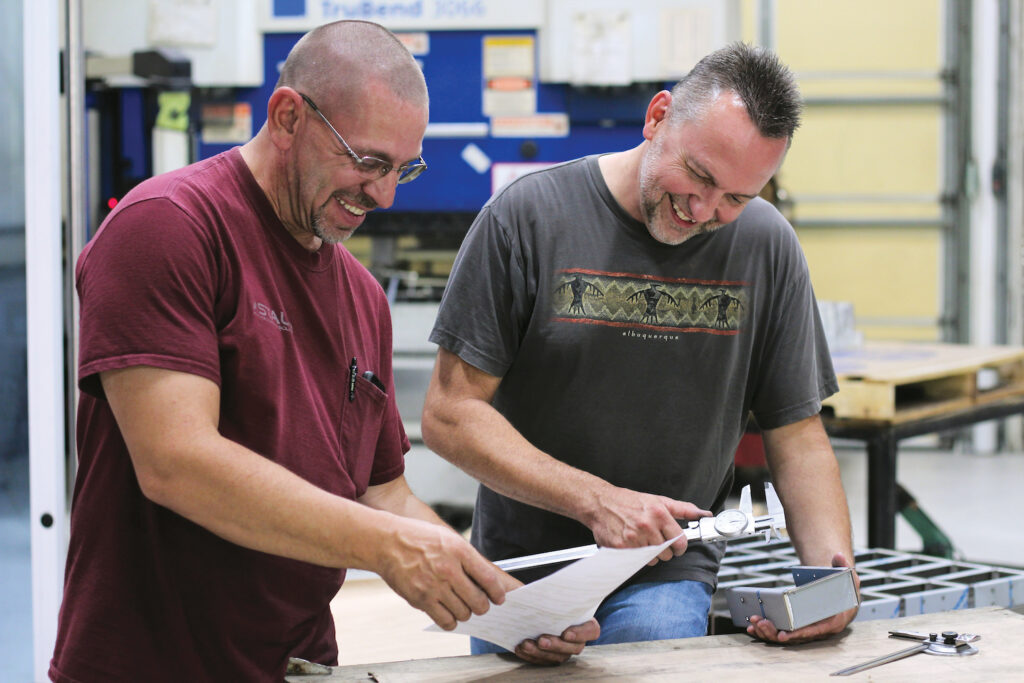 How does the company impact the community?
Each October the STAUB team hosts over about 150 students for National Manufacturing Day, providing shop tours, industry education and hands-on activities. STAUB is a big supporter of the XtremeBOTS, a STEM-focused workforce development program for middle and high school students. STAUB has mentored many student teams and has hosted the annual BOTS competition on-site for the last three years, with several employees serving at the event. I am one of the founders and a current board member of XtremeSTEM, which produces the XtremeBOTS and other related programs. For the last two years STAUB has worked with local high schools, providing paid internship positions for seniors interested in pursuing careers in manufacturing or engineering.
– Steve Staub, President
The Urology Group
Medical group specializing in urology
Cincinnati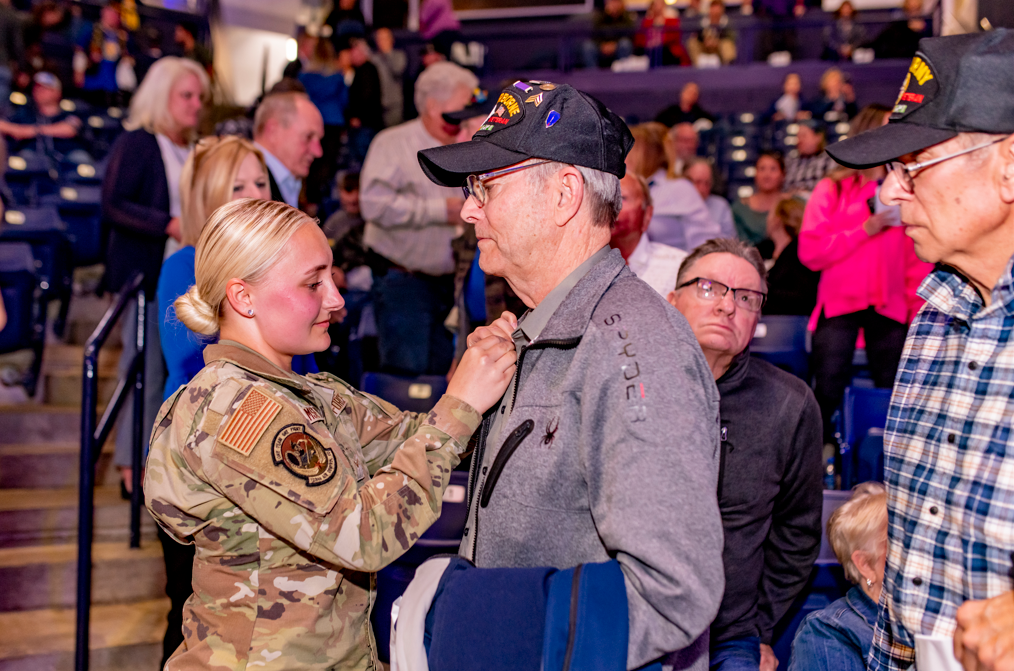 How does the company impact the community?
Among our Core Values is to "Give back to our communities to improve lives." Our physicians and staff demonstrate that commitment in a wide variety of meaningful projects. We especially enjoy opportunities to support military veterans, and to promote cancer research and early detection and prevention. One example is a 50th anniversary tribute to Vietnam Veterans. This city-wide, open-to-the-public event drew nearly 2,000 attendees, including almost 400 Vietnam Veterans to recognize the 50th anniversary of when the last U.S. troops were pulled out of Vietnam (March 29, 2023). Our staff spent hundreds of hours planning and promoting the event, securing sponsors, and creating a line-up of meaningful entertainment, heartfelt videos from veterans and a public thank-you from local celebrities including members of the Cincinnati Reds and Cincinnati Bengals. It ended with a powerful ceremony that personally recognized each Vietnam Veteran in attendance.
– Rebecca Rowland, HR Manager
Wright-Patt Credit Union
Not-for-profit financial cooperative
Beavercreek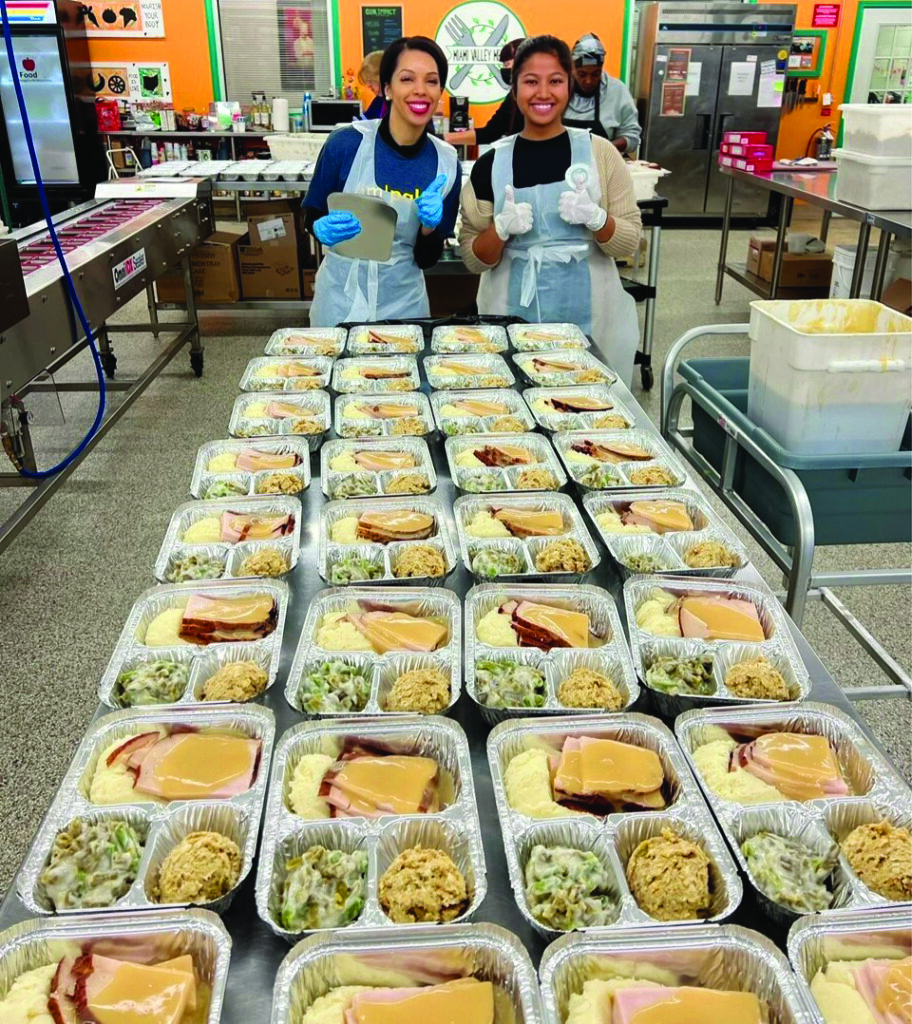 How does the company engage with employees?
Wright-Patt Credit Union strives to be the best place our partner-employees have ever worked, a bold statement that we strive for and live each and every day. Partners are invited to let their voices be heard in a number of ways from volunteering on one of a number of committees to participation in open forums with HR, Social Impact and Service Excellence. Our organization also has the "Ask the Prez" option where any partner-employee can ask questions of company president, Tim Mislansky. He always provides thoughtful, intentional and transparent answers. In some cases, the partners are asking questions to help provide a better service to WPCU members. After careful consideration, the ideas brought forward by partners could be implemented. No matter the question, Tim still answers these with an honesty and accessibility not often available at other institutions. Employees also participate in committees that shape company benefits (the Wellness Committee) or community impact (the IDEA Collaborative and the InspiRAYtion Committee).
– Amber Rose Brown, Development Director, Sunshine Community Fund
Keystone Technology Consultants
IT managed service provider
Akron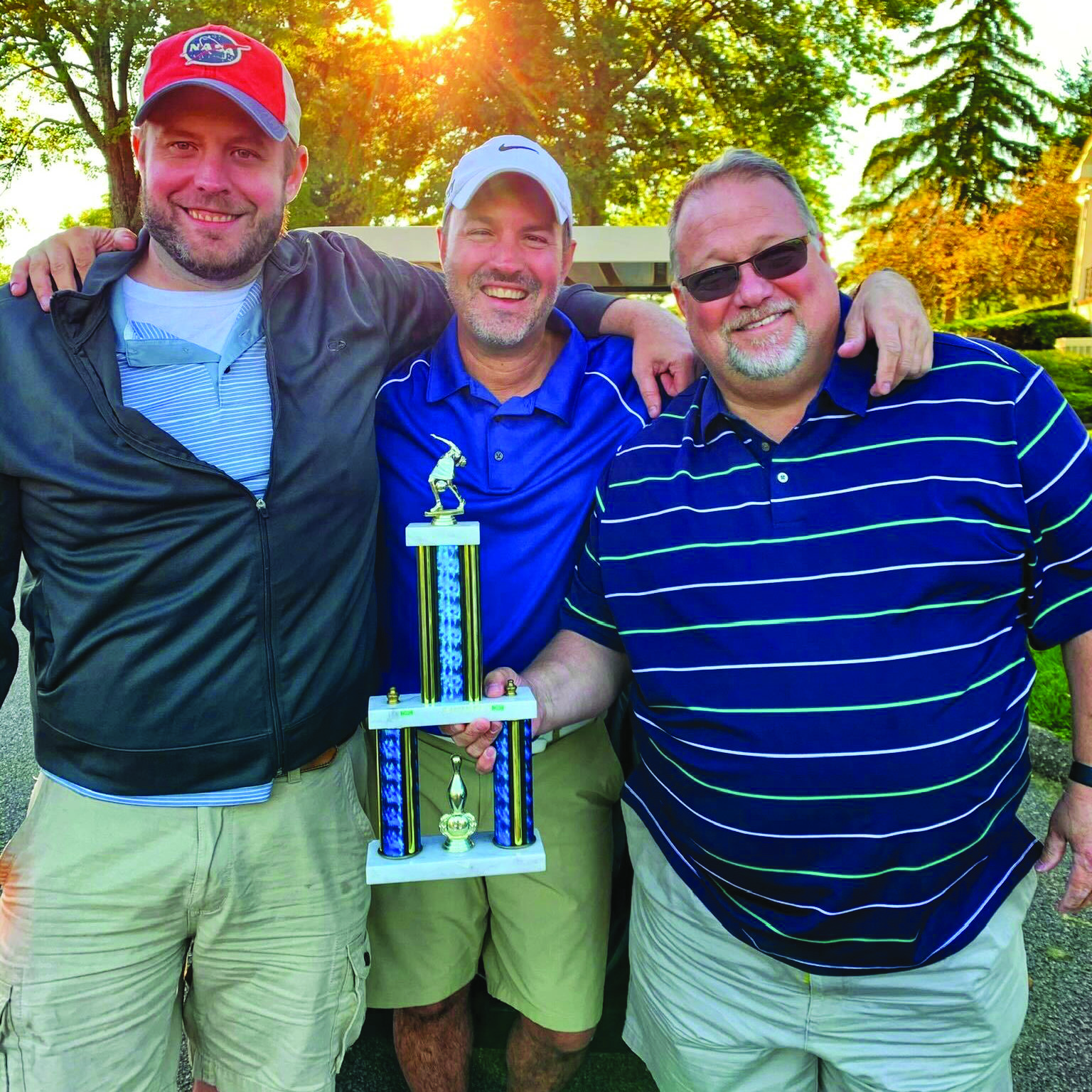 How does the company engage with employees?
Our employees feel a sense of accomplishment for helping others and are consistently recognized for their achievements. Employees with work anniversaries and birthdays are celebrated at the monthly staff meetings and acknowledged for their valuable contributions by their peers. During this time, client performance surveys (Smilebacks) are also reviewed as a group and one employee with a positive review each month is awarded an Amazon gift card. Additionally, our Wingman Program allows team members to meet regularly with a senior manager or partner to discuss hot topics in their personal lives or career.
We have also encouraged our team to have fun by implementing "Engineering Days"—one day a month where the Keystone team gets together to intentionally relax and do something enjoyable. Most recently, we spent the day together playing WhirlyBall, a fast-paced physical activity that got our team moving! This was a great way for the team to step away from the office and spend time getting to know one another. We've seen a drastic difference in our team's happiness when they have a chance to take a break and bond.