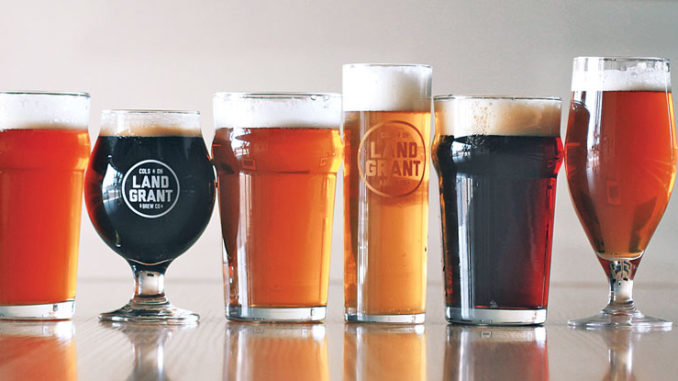 Land-Grant Brewing Company is creating community through its brewery
Like many small businesses, Land-Grant Brewing Company in Columbus started from a passion and hobby.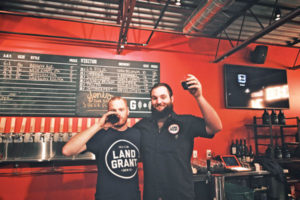 Co-founder Adam Benner started home brewing beer in Chicago. He wanted to make labels for his bottles so he enlisted help from a college friend and designer Walt Keys. Pretty soon they decided to open their own brewery launching a Kickstarter campaign to see if it would be a viable option. When they raised $30,000 in 60 days, they hit the ground running.
As Ohio State University alumni, Benner and Keys wanted an urban brewery in Columbus. After a two-year search, they settled on the building of Capital Lift and Manufacturing Company, a former elevator plant, in the Franklinton neighborhood, just west of downtown Columbus. Six months later, they opened the doors to the taproom and brewery in October 2014. They named the brewery after the Land-Grant Act of 1862, which designated federal land in each state for a public university including their alma mater, OSU.
Benner, the company's president, Keys, the creative director, and the rest of the staff believe that beer creates community and they take that motto to heart. The company donates 1 percent of revenue to local charitable initiatives such as Pelotonia, a bike ride that raises money for cancer research, and the Columbus Area Humane Society, among many others. In 2017, Land-Grant donated $49,356 to charity, according to its website.
"We really wanted to build a community around the beer because that's what can be really fun about beer is the social aspect," says Keys. "And having a taproom and having beer creates this good platform for folks to raise awareness or raise money for various causes."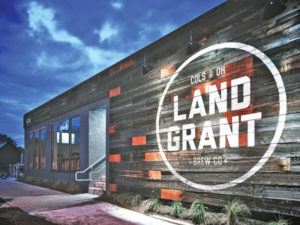 Pelotonia, which raised $26.2 million for cancer research last year, appreciates the partnership, says Miguel Perez, Pelotonia's vice president of mission and brand. Recently Pelotonia hosted 200 people at the brewery to celebrate the charity's 10th anniversary.
"They are just such great partners," Perez says. "They are always so gracious, generous, flexible and willing to do anything."
In addition to supporting community organizations, Land-Grant is dedicated to sustainable brewing practices.
They have a sustainability manager and allocate a portion of revenue to making sustainable improvements such as recently replacing all of their lights to LED-efficient bulbs, Benner says.
The business model has paid off.
The company went from selling about 3,000 barrels of beer in 2015 to about 5,900 in 2016 to about 8,600 last year, Benner says.
Land-Grant has also invested in the neighborhood. Once a month over the summer, the employees pick up trash in Franklinton, one of the poorest neighborhoods in Columbus, and contribute to the neighborhood's development, says Jackie Kemble, the community partnership manager.
Among the long list of organizations they support, Land-Grant works with Franklinton Farms, a nonprofit urban farm in the neighborhood, and the Franklinton Board of Trade, which promotes business development and the revitalization of the neighborhood.
"I love when a business comes to a part of town like this," says customer Andy Herf. "It's good to see them commit to the neighborhood and commit to Columbus."