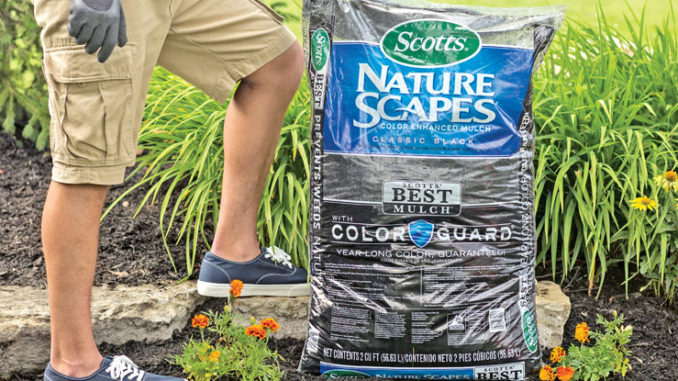 ScottsMiracle-Gro, which planted itself in Marysville 150 years ago, has flourished thanks to its focus on healthy lawns and the community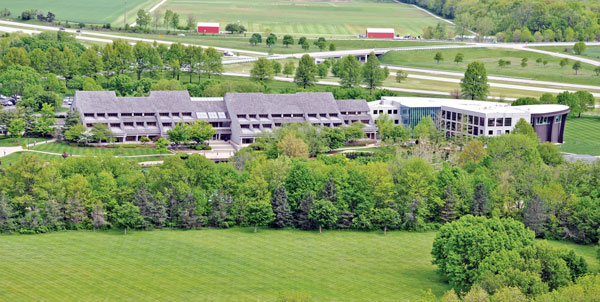 At the ScottsMiracle-Gro storefront in uptown Marysville, Ohio, antique fertilizer bags, lawn equipment and a vintage gas pump sit alongside the company's new lawn-care products, representing the lawn and garden giant's 150-year history in the town.
Civil War veteran Orlando McLean Scott opened the store in 1868 selling farm seeds and equipment thus founding what eventually became ScottsMiracle-Gro, a company with 5,500 employees in North America and $2.8 billion in annual revenue. In its 150 years of existence, the Scotts company has evolved, acquiring other businesses and merging with Miracle-Gro in 1995, but it continues to focus on healthy plants and lawns and still has its base of operations in Marysville.
ScottsMiracle-Gro's corporate headquarters and the Marysville manufacturing plant employ more than 1,100 people in the city of about 23,000 people located 30 miles northwest of Columbus. The 730-acre campus includes corporate offices, research and development facilities, greenhouses, a fertilizer plant, a recreation center and wellness center.
Research and Development
The research and development building and the accompanying 17,000-square-foot greenhouse focus on improving every aspect of ScottsMiracle-Gro products, says Chief Scientist Brian Birrenkott. Along with grass seed, soil and fertilizer under the Scotts and Miracle-Gro brands, the company also sells pest and weed-control products from RoundUp, Ortho and TomCat, and organic products through its Nature's Care line.
ScottsMiracle-Gro has been cornering the market on indoor hydroponics gardening, which is the fastest growing segment in the lawn and garden industry. Hydroponics involves growing plants in water with nutrients instead of in soil.
The company first invested in hydroponics in 2011 with a stake in Aerogarden and now also makes two other hydroponic brands, Black Magic and Root Farm, says Molly Jennings, director of public affairs. Gardeners with little or no outdoor space can grow herbs, flowers, fruits and vegetables indoors. ScottsMiracle-Gro also has seen a positive impact on hydroponic sales in states where marijuana is legal.
A recent trip to the company's greenhouse showed 5-foot tomato plants grown hydroponically that had far surpassed the same plants grown only in soil. Birrenkott says the company is working on more prototypes for larger hydroponic systems that will also be aesthetically pleasing to match with indoor furniture, such as a side table.
Along with growing plants using ScottsMiracle-Gro products, researchers on the Marysville campus also simulate drought conditions, test out product packaging for the weather elements, configure product formulas and even let bugs loose on a test kitchen to simulate the effectiveness of pest control products, Birrenkott says. Many scientists including biologists, chemists, horticulturists and entomologists work in research and development.
"This is like a mini university in this R and D division," Birrenkott says.
Along with the greenhouse, which simulates environments from around the country, researchers plant flowers, grass, fruits and vegetables in fields all around the campus, making it a beautiful place to work in the spring and summer, Birrenkott says. Raised garden beds that line the patio of the Research and Development building will be filled with fruits and vegetables as a part of a partnership with Bonnie Plants. Employees also have their own gardens and donate most of their harvest to a local food bank.
Community Ties
Along with its large physical presence, the corporation has many historical ties to the community.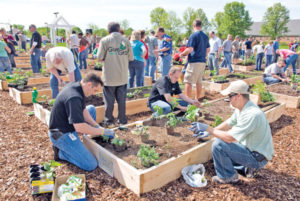 J.R. Rausch, mayor of Marysville, says most longtime families in the area can name a relative who has worked for the company. Rausch's own grandfather worked for Scotts, creating products for seven or eight patents, the mayor says.
Laura Briggs, a senior analyst in regulatory affairs, is a third-generation employee. Combined, her family has more than 100 years' experience with the company. Her grandfather worked for 50 years in purchasing, and her father recently retired after 32 years in research.
"For a while my father and I were on the same team and we got to work together, so that was really cool," Briggs says. "It kind of goes with the family atmosphere here at Scotts."
Briggs, who started working at ScottsMiracle-Gro during a high school internship, is the president of the company's associate board. The board organizes family activities for employees, volunteers in the community, helps associates in financial need, distributes scholarships and works in other ways that underline the company's culture of caring. Briggs says that along with the company's family atmosphere, she appreciates Scotts' rich history and its sustainability and charity initiatives.
Community members were grateful that executives chose to stay in Marysville when the company merged with New York-based Miracle-Gro in 1995.
"We are very lucky that they continue to keep Marysville as their world headquarters," says Rausch.
Chairman and CEO Jim Hagedorn, who is the son of MiracleGro's founder, commutes by plane from his home in New York.
"As we continue to operate more and more in a global economy, to celebrate our 150th anniversary is a significant milestone and to do it in the same town where we were founded is especially meaningful," Hagedorn said in a statement. "The success and longevity of this company is due to this community and the strong work ethic of each and every one of our associates."
150th Anniversary Celebrations
It was at the urging of community leaders and company officials that ScottsMiracle-Gro moved its company store four miles from its headquarters back to the Main Street site of the original Scotts store in 2009, says Travis Askew, the store's manager.
Retirees from the company contributed to the store's historic displays by bringing in vintage products such as fertilizer spreaders, product packaging, a gas pump from when Scotts sponsored race cars and even an old office chair claimed to be the former CEO's, Askew says. Along with lawn and garden products, the store sells memorabilia such as shirts with the vintage Scotts logo.
The store will celebrate its anniversary at Marysville's Friday Nights Uptown event May 18, which ScottsMiracle-Gro will sponsor.
The 150th anniversary celebration will also include Franklin Park Conservatory and Botanical Gardens near downtown Columbus with the unveiling of the Scotts Miracle-Gro Foundation Children's Garden at Franklin Park Conservatory. The opening on May 19 is a part of the company's GRO1000 initiative, which has established more than 1,000 community gardens spanning every state of the country. Many of the gardens benefit food deserts—areas where access to fresh produce is limited.
The Scotts Miracle-Gro Foundation, which already sponsors a community garden in Franklin Park, gave close to $2 million for the 2-acre Children's Garden, says Bruce Harkey, president and CEO of the conservatory. The garden will feature different aspects of Ohio's landscape, a canopy walk, waterways and more.
"We're so thrilled that Scotts made the leap with this garden," Harkey says. "It shows a commitment to their role in engaging children in gardening."