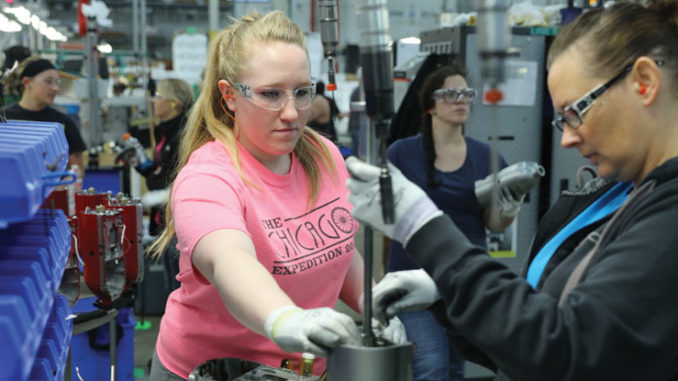 KitchenAid keeps cranking out the stand mixers at its Greenville, Ohio, facility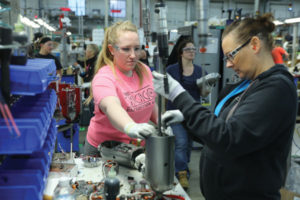 A group of supervisors closely view graphs on monitors to ensure parts meet standards while robot arms grab zinc and aluminum parts and remove burrs on polishing belts.
Meanwhile, vehicles moving parts in bins quietly glide past a small group of visitors as workers in high-tech respirators and coveralls spray metal parts brilliant colors in the paint room before they are transported to the assembly lines.
It's a sophisticated and synchronized system that churns out nearly 3 million iconic KitchenAid stand mixers every year in this state-of-the-art Whirlpool facility in Greenville, Ohio, near the Indiana border. The factory also assembles KitchenAid blenders, hand mixers, stand mixer attachments, aerated beverage machines and knife blocks, says Jenni Hanna, plant lead for Whirlpool Corporation's Greenville Operations.
Now every KitchenAid stand mixer in the world is assembled and shipped right from this Whirlpool factory and global distribution center in Greenville.
The factory—and the recently expanded Whirlpool distribution facility across the street—symbolizes the Made in America slogan by employing 1,200 American workers.
"KitchenAid stand mixers are known for their quality and durability," says Hanna. "They are built with great pride and quality by our skilled Greenville workforce."
The expansion of its distribution center reinforced the company's confidence in the workers at Greenville. "Our recent expansion of our global distribution center speaks to our skilled workforce—their resiliency, skill and dedication to quality and workmanship," says Hanna.
Whirlpool invested $17 million to nearly double the size of its global distribution center, says Hanna. "The expansion allowed us to bring multiple off-site warehouses into one distribution center and eliminates multiple transfers of finished goods," she says. The facility services the entire globe for KitchenAid small appliances and ships throughout the world, says Hanna.
The KitchenAid brand was started in 1919 by The Hobart Corporation, after Herbert Johnston, an engineer with Hobart, was inspired to make a smaller version of the large, commercial mixers in bakeries.
The prototypes he developed were given to the wives of factory executives to test and one said it was "the best kitchen aid I've ever had." The name stuck.
Egmont Arens created the trademark silhouette of the KitchenAid stand mixer in the 1930s with the Model "K." Its look has changed little since that design was introduced. In fact, the San Francisco Museum of Modern Art even named the KitchenAid stand mixer as an icon of American design in 1997.
"In the early years, a direct sales force made up of primarily women was selling door-to-door," says Hanna. No small feat considering the units, weighing about 65 pounds each, were carried house to house by those same women.
KitchenAid came to Greenville in 1942 when the company bought two buildings, says Hanna. "Greenville was originally chosen for its hard-working agricultural community and has become the global hub for our small appliance business," she says.
Whirlpool Corp., the world's largest home appliance maker, bought the KitchenAid brand in 1986.
The KitchenAid factory and distribution facility located across the street are an important part of Greenville's economy, according to Mayor Steve Willman. "They are an important factor in our community," he says. "It's a huge tax base. Not only do they employ a lot of people but they help out in the community."
KitchenAid also opened its KitchenAid Experience retail center in Greenville's historic downtown in 2001. The store, the only one in the world, offers a complete selection of KitchenAid new and refurbished products, cooking demonstrations, and a small museum.
The store is one of the draws to Greenville's historic downtown and Darke County, says Matt Staugler, executive director of the Darke County Visitor's Bureau. "Between the uniqueness of it being the only KitchenAid store in the country and the Made in America thing is so big right now … KitchenAid's presence here is a huge piece of our tourism economy," says Staugler.
Tours of the KitchenAid factory are also available for free at 12:30 p.m. most days. Hanna says, "Participants see the product machining, our paint system/department and assembly areas. It's a great way to see firsthand the craftsmanship and attention to detail that goes into building each stand mixer."
The future of the KitchenAid factory in Greenville is not only bright, but green. Whirlpool plans to install three wind turbines that will generate 12 million kilowatts annually and offset about 70 percent of its electricity consumption, Hanna says. "Using wind power will eliminate the equivalent of more than 9,000 annual tons of CO2; this is equivalent to generating enough clean energy to power more than 900 average American homes," she says.
Whirlpool will also create three $5,000 scholarships—one for each turbine for a total of $15,000—to be awarded annually to local high school graduates pursuing a two-year or four-year science, technology, engineering or mathematics degree, she says.
And that will help keep the Made in America products flowing out of the KitchenAid factory in Greenville, Ohio, for years to come.