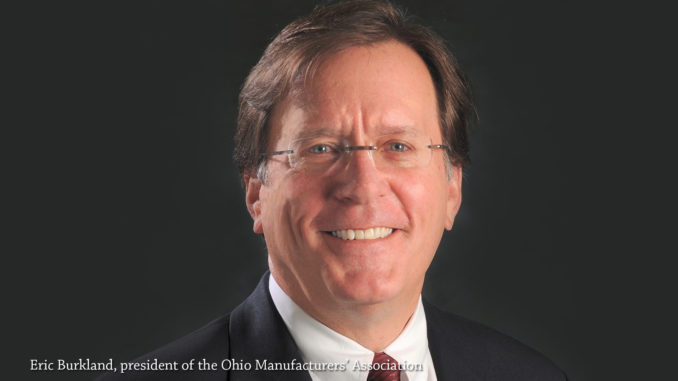 Manufacturers statewide are seeing positive impact as economy reopens
By Terry Troy
The V-Shaped rebound predicted by Greg Knox of Knox Machinery in Franklin, Ohio (covered in last month's Manufacturing Minute), appears to be coming true—and not just for the manufacturing sector. The nation's economy added 2.5 million jobs last month, forcing unemployment downward for the first time since the onset of the coronavirus pandemic.
Of all economic sectors, manufacturing appears to be leading the way out of what will hopefully be a brief recession. But manufacturers are still reluctant to predict what form manufacturing will take in the near and long term. It will likely be different.
"Most manufacturing stayed open as essential businesses during the stay-at-home order, and those that didn't are mostly back to work," says Eric Burkland, president of the Ohio Manufacturers' Association (OMA). "The economics right now vary by manufacturing industry. For example, food manufacturers have been going gangbusters, while automotive is just now getting back up. We expect a rebound, but nobody knows just exactly how this is going to play out."
Aerospace and defense spending will continue to thrive, especially with the new Space Force getting off the ground. And it's not just the major defense and aerospace companies that will benefit. General Tool Company, an award-winning supplier of mission critical hardware and systems to the world's leading aerospace and defense industries, is adding significantly to its staff, according to Pete Borden, vice president of marketing and strategic sales for the Reading, Ohio-based company.
"While commercial aerospace has slowed, military aerospace and defense spending continue to grow," says Borden. "We have been able to secure long-term contracts that provide stability for our jobs and hourly wages for our employees."
The company's wages haven't gone up and down like they have in other manufacturing sectors like automotive. Despite its smaller size, (approximately 300 employees), General Tool Company faces the same challenges as other major aerospace and defense suppliers.
"We're kind of a full-service shop," says Borden. "We do a lot of fabrication, welding, machining, assembly, integration and testing. So we have a lot of big business characteristics in a small business foot print."
One of the biggest challenges facing many machine and highly technical manufacturers regardless of size is the need for trained and qualified personnel. This was an issue before the pandemic and will likely be an issue moving forward. The Advanced Manufacturing Industry
Partnership (AMIP), the manufacturing arm of Partners for a Competitive Workforce is continuing to address those needs.
"The OMA has a network of 13 endorsed regional sector partnerships led by manufacturers," says Burkland. "The partnerships share best practices and intellectual product geared toward recruiting and developing talent. The partnerships work with community stakeholders (schools, colleges, economic developers, government…) to engage prospective workers in manufacturing, as well as to train incumbent workers. We are early on in this work and aim to be the leading manufacturing education center in the nation."
As for other manufacturing sectors, "uncertainty about the economy is the biggest challenge," adds Burkland. "This affects all decision making. For smaller firms, cash flow is always a top concern."