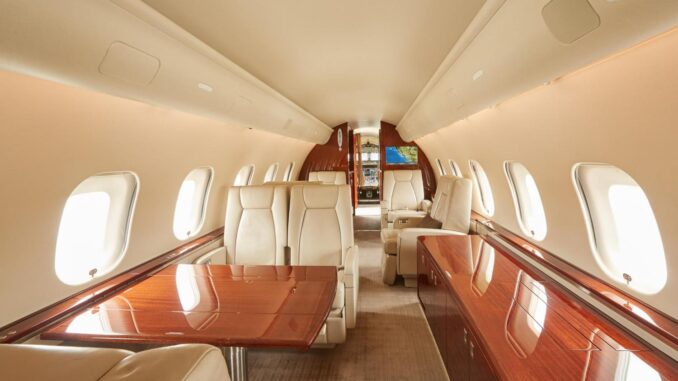 NetJets' business answers questions on flying safely during pandemic
By Jill Sell
This is one man's rationale for becoming a fractional owner of a private jet: he wanted his dog to be safe and pampered while traveling. True, he had a wife and children, and yes, their well-being was paramount. But the man also claimed his dog was as loyal and appreciative as any other family member. So in these days of high security and COVID-19 concerns, the successful businessman opted out of commercial flights.
Shared ownership in an aircraft gave the man the freedom to fly in a pristine environment and with a substantially lower investment than if he had footed the entire cost of the plane himself. He also didn't have to worry about flight staffing or aircraft maintenance. And, of course, the man's dog was treated in flight like a royal canine.
NetJets Inc., a Berkshire Hathaway company with headquarters in Columbus, is one of the country's fractional aircraft ownership businesses. Founded as Executive Jet Airways in 1964, NetJets claims to be the third or fourth largest airline in the world with more than 750 aircraft worldwide and 9,000 active customers. In 2019, it flew more than 20,000 pet passengers who could, of course, enjoy catered gourmet dining options and fluffy blankets. But it's not just Rover or Princess who is stepping aboard private aircraft. 
"What we are seeing today is predominantly personal travel with people traveling to see loved ones, moving between homes or otherwise looking for an escape from wherever they have been hunkered down through the pandemic," says Patrick Gallagher, president, NetJets sales, marketing and service. "We have not yet seen a resurgence in those traveling for business. As economics start to open, we expect that to follow."
Gallagher calls 2019 "a marquee year for the private aviation industry." But if one compares March-June 2019 to March-June 2020, the total lead volume is up slightly more than 100%. Even more impressive, Gallagher believes that stat highlights "the extraordinary interest in private aviation during this time."
At the start of the pandemic, NetJets saw a reduction to a low of about 10% of its normal volume. Currently the company is operating consistently at 85% of its typical flight demand.
"We closed as many new customers in May and June of this year as we did in the first six months of 2019. If this trend continues, we could see as many new owners May-July than we did in all of 2019," says Gallagher, adding that NetJets flights are available 24/7, every day of the year. Normally, the company logs 300,000 flights annually and has access to 5,000 airports in 200-plus countries and territories.
Of course, not all new customers are fractional NetJets Share members. NetJets has two other options that fit well into today's unstable travel industry. Its NetJets Lease Program provides personal or business jet travelers who fly 50 or more hours per year with a 24- to 60-month agreement without an initial capital outlay. In addition, the NetJets Marquis Card Program is for individuals who fly less than 50 hours per year and who want a short-term commitment. This all-inclusive, upfront fee plan can be highly desirable to those who have never flown with private aviation before. 
Some aviation industry watchers also speculate that companies with aging baby boomer executives are beginning to forgo their own private aircraft. Older aircraft is expensive and sometimes difficult to update to today's high tech and luxury standards. And even if those improvements were possible, does the cost make sense for a plane that is not worth the investment?
Of course, another option for those who want private accommodations is full ownership of a private aircraft. But buying a jet can set someone back $3 million to $90 million, not counting fuel and maintenance. Fractional ownership, leasing and "jet gift cards" work well for some.
For now, with COVID-19 hanging over our heads, the big advantage many people see when talking private shared aviation opportunities is health and safety. That comes before even lower costs and the prestige factor. Although NetJets aren't customized, it's not like a being fractional partner is giving up luxury. The company's newest and largest ultralong-range aircraft is the Bombardier Global 7500. The 14-passenger jet can fly nonstop from New York to Beijing and includes a full-size bed in a private master suite.
"Our reputation for safety and service provides peace of mind at a time when our industry has been badly bruised by the downturn over the past several months," says Gallagher. "We are spending over $1 million a month right now keeping our aircraft interiors clean and virus-free for our passengers and crews. Those added costs may be a heavy lift for companies that are struggling to make payroll today."
All NetJets aircraft are intensively cleaned and sanitized after any flight by a NetJets crew. In addition, any aircraft returning from a region identified as high risk by the Centers for Disease Control and Prevention is immediately quarantined and professionally cleaned.
Of course, private aviation companies hope their new lease or card customers added during the pandemic will remain with them once/if/when COVID-19 blows over.
As for adding new aircraft to their hangers, private aviation companies aren't all immediately committing to the idea, even if a rise in customers continues. Industry layoffs by aircraft manufacturers, travel bans for non-essential flights and possible material and technical equipment shortages for new aircraft have put some plans for new acquisitions on hold.
Few aircraft investors want to play against COVID-19, which seems to hold all the cards for now. But private jets are in the sky.
"Our most popular destinations have stayed relatively constant, dominated by major metropolitan areas, with a few minor changes," says Gallagher. "As we see owners focusing more in travel to second homes or bringing children back to family houses, we have seen some increased interest in second-home destinations like Naples or Scottsdale. There is less interest in destinations driven by more traditional leisure travel and conferences like Las Vegas."