Oswald Companies has doubled its Columbus office by listening to its clients
Steffan Moody had about six hours to decide if he wanted to move from Cleveland to lead the branch office of Oswald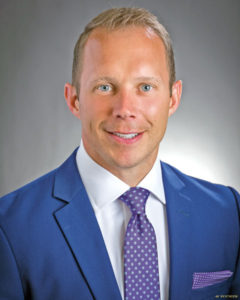 Companies in Columbus, and only four days to move to the new city.
Moody, vice president and employee benefits market leader for Central Ohio, had to start quickly so he could shadow his predecessor, who was taking another position in Colorado. Moody was previously a client executive with Oswald, an insurance brokerage and risk management firm, and he is grateful he made the quick decision in September 2014.
"It has been an absolute wonderful opportunity," says Moody, who has helped to double the Columbus branch's size from eight employees to 16.
The office recently moved down Nationwide Boulevard to a bigger space, which can accommodate up to 28 employees. Oswald Companies is owned by its more than 400 employees and is one of the largest independent insurance brokerage and risk management firms in the country. While the company as a whole has thousands of clients, the Columbus branch manages more than 150 clients in 24 counties in Central Ohio, Moody says.
Columbus-area clients include a variety of industries such as construction, retailers, government organizations and nonprofits, such as Volunteers of America, Moody says.
"We are a one-stop shop with full solutions," Moody says. "Everybody can handle all different areas of insurance needs for a company, which often makes things a little easier for them."
The branch's 16 employees also use the resources of Oswald's main Cleveland office to better serve their clients. The company has many specialists on staff including CPAs, paralegals, loss control experts, data analysts, underwriters and more, says Moody.
"Another Oswald perk for me is having teams of experts that are way smarter than me that I can lean on," says property and casualty insurance sales executive John Hollins. "I know that if something is going on and I can't answer the question, I can get it in-house."
Hollins, who joined the company in August 2017, was drawn to Oswald's supportive culture.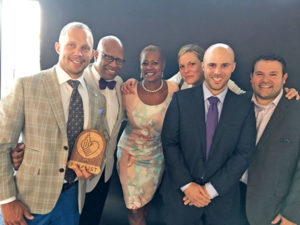 "Within the first 30 days of me working with Oswald, for the CEO of the company to pull me aside to take 45 minutes to an hour to give me a personalized plan and advice, just meant the world to me," he says.
The company also gets involved with its nonprofit clients donating 10 percent of revenue earned by those clients back to the charities, Moody says. The Columbus office of Oswald also completed 100 community service hours last year.
Nicole Knowlton, the vice president of development and communications at Volunteers of America of Greater Ohio, says Oswald treats them more like a partner than a client and volunteers with many of their initiatives.
"It's clear that Oswald is not just in it for the business, but they are in it for the relationship," she says. "As a nonprofit, that is really most important to us. It is important that they understand the work that we do and our efforts to serve the community."
To celebrate its 125th anniversary this year, Oswald Companies will donate $125,000 to one charity in September. Last year, the company as a whole gave more than $600,000 to charity, Moody says.