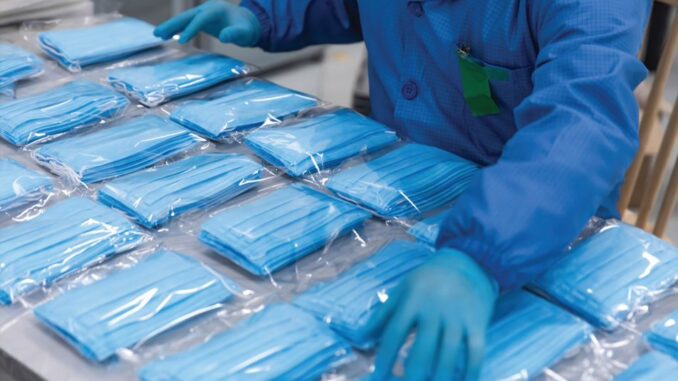 From delivery of PPE to easing of requirements, agency tries to help businesses survive
By Deborah Rutledge
As COVID-19 imposed itself on all facets of work and home life, the Ohio Bureau of Workers' Compensation developed a number of initiatives to counteract the pandemic's effects on businesses.
Among them, the Ohio BWC lists:
• Finding and delivering personal protective equipment (PPE): When Ohio Gov. Mike DeWine and other state leaders called on all Ohioans to help shore up Ohio's personal protective equipment supply, Bureau of Workers' Compensation employees responded across Ohio to uncover and donate hundreds of N95 masks, safety goggles, nitrile gloves, hand sanitizers, wipes and more.
• Delivery of essential supplies: As of late March 2021, the Ohio BWC's Special Investigations Department (SID) had assisted the state's Emergency Operations Center to deliver more than 3.5 million pieces of essential supplies and PPE across the state. That included face masks, protective gowns, face shields, sanitizer, pop-up testing equipment and ventilators to health-care settings, hospitals and front-line workers throughout the state.
• Air-quality improvement: At DeWine's request, the Ohio BWC is administrating a federally funded program that improves air quality and weakens COVID-19's spread in facilities that serve the elderly and other vulnerable populations. The Indoor Air Quality Improvement Assistance Program provides up to $15,000 in reimbursement for eligible applicants to help cover the costs of inspections, assessments, maintenance and improvements. Eligible facilities include nursing homes, senior centers, hospices, group homes and substance-use disorder residential treatment providers, among others.
• A safety ad campaign: The Ohio BWC supports a public-awareness ad campaign promoting coronavirus precautions—social distancing, washing hands, wearing face coverings—as Ohioans get back to work. The ads, "Up to All of Us," "Why I Wear a Mask" and "Markovitch," can be found on broadcast, cable television and YouTube.
• Extended deadlines: The Ohio BWC twice extended deadlines in 2020 for employers to pay their monthly premium installments, keeping hundreds of millions of dollars in the economy to help businesses get on their feet again amid the ongoing pandemic.
• Development of a special COVID-19 claims team: The Ohio BWC created the team to provide careful attention to COVID-19 claims.
• Deadline forgiveness: The Ohio BWC relaxed or waived deadlines for the following programs that save employers money on their premiums, applying the discounts automatically: Drug Free Safety Program, Grow Ohio, EM Cap, Industry Specific Safety Program, One Claim Program, Policy Activity Rebate Program.
• Relaxing requirements: The Ohio BWC relaxed or revised payroll reporting requirements that will eventually result in premium savings for employers. For example, it is not requiring employers to report payroll paid to idle staff and is allowing operational staff to be reported under teleworking class codes.
• Telemedicine: The Ohio BWC is embracing telemedicine to help injured workers connect with their medical and therapy providers. It is also continuing to make timely payments to its medical providers.
• Reduction of self-insured requirements: For self-insured businesses, the Ohio BWC is temporarily waiving some annual requirements to ensure that they continue operations with certificates of coverage.