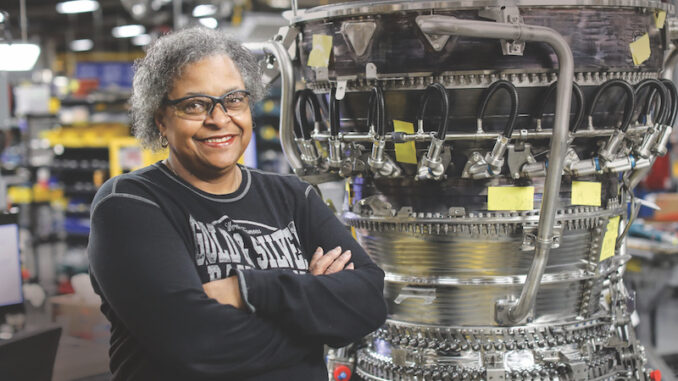 GE's split into three companies could impact thousands in Greater Cincinnati
By David Holthaus
General Electric, long one of Greater Cincinnati's largest employers and one of the world's mightiest industrial conglomerates, is about to undergo the biggest change in its long and storied history.
GE, whose founding dates to Thomas Edison and was financed by J.P. Morgan himself, is breaking itself up into three independent companies. Sometime in 2024, GE currently says, the company will have completed the spinoff of most of its wide-ranging portfolio of businesses. What remains of GE will be its aircraft engine and associated aviation business, which will be called GE Aerospace.
GE has not yet said where that business, which has historically been based in the Cincinnati suburb of Evendale, will be headquartered. The GE parent company is currently based in Boston. It's also unclear what the eventual impact on employment will be in Greater Cincinnati, and GE is not saying.
Overall, though, "The industry is growing, and we're growing," says GE Aviation spokesperson Perry Bradley. "Employment is growing. We're actively hiring." GE's aviation business drove the parent company's financials in the second quarter, with aerospace revenue up by 27% from the same quarter in 2021, and orders up 26%.
Greater Cincinnati is home to thousands of GE Aviation employees, retirees, former employees and their families, as well many contractors, suppliers and vendors. It currently employs about 9,000 people at its main location in Evendale, an engine testing center in Adams County, an engineering site in West Chester, a manufacturing operations center in Dayton and a maintenance facility at the Cincinnati/Northern Kentucky International Airport.
It will be a groundbreaking transformation for one of Cincinnati's signature businesses, and one of the world's best-known companies:
– By early next year, GE plans to complete a spinoff of GE HealthCare. The GE unit manufactures and sells medical equipment. GE will retain a stake of 19.9% in that company, which will continue to be named GE HealthCare and will be publicly traded and listed on the Nasdaq Global Select Market.
– In early 2024, GE plans to spin off its portfolio of energy businesses, which include renewable energy, power, digital and energy financial services. That business provides the equipment and services that power one-third of the world's electricity, the company says. It will be renamed GE Vernova.
– What is left after those spinoffs will be GE Aerospace, "an aviation-focused company shaping the future of flight," the company says. GE Aerospace will own the iconic GE logo and will lease it on a long-term basis to the other companies, it says.
GE holds a commanding position in the global business for aircraft engines. The company has an installed base of more than 39,000 commercial aircraft engines and more than 26,000 on military aircraft.
The company has already named its top executives for the new GE Aerospace business. H. Lawrence Culp, Jr., who is currently chairman and CEO of parent GE, is now CEO of GE Aviation, in addition to his current role at GE. John Slattery, who was president and CEO of GE Aviation, was named executive vice president and chief commercial officer of the aerospace business.