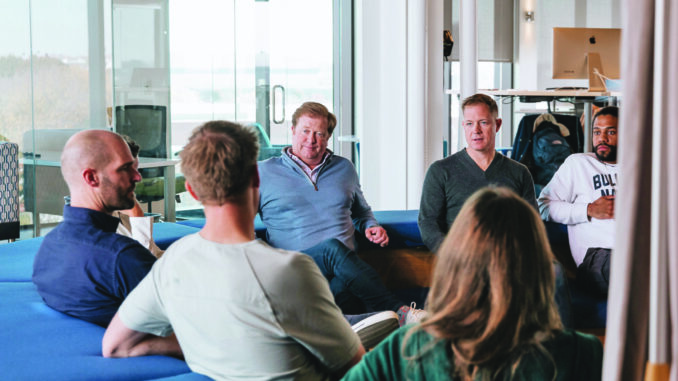 Drive Capital invests in Midwest cities like Columbus
By David Holthaus
Founded in 2012 by two Silicon Valley venture capitalists who wanted to move to and invest in the Midwest, Columbus-based Drive Capital now manages more than $2 billion in assets.
The venture firm was founded with a mission to invest in startups situated in what it believes is an underinvested region of the country, the vast geography between New York's Hudson River and the Rocky Mountains out West, which Drive leaders refer to as "the Driveway." The firm also employs a strategy of investing in startups in a continuum from the idea, or seed, stage through a potential initial public offering.
It recently announced an $80 million program to invest in early-stage companies located in Chicago, Atlanta, Columbus, Denver and Toronto. Under the program, Drive will invest $500,000 in pre-seed and seed companies located in those cities. It also said it has named a dedicated general manager for each of the cities.
"For early-stage startup companies, access to capital is critical," says Chris Olsen, co-founder and partner. "This new program will help entrepreneurs get their first investment right where they live within these five cities."
Olsen was a partner with Sequoia Capital, the legendary San Francisco-area venture firm that was started in the 1970s and whose investments have included Google, Apple, LinkedIn and Zoom, and now has more than $85 billion in assets under management.
His co-founder of Drive Capital is Mark Kvamme, who was also a partner at Sequoia, and was the original president and chief investment officer of JobsOhio, the state of Ohio's economic development office started by John Kasich. Kvamme has since stepped back from Drive and is considered "partner emeritus."
Drive's forays in seed investing include Forge Biologics, a Grove City, Ohio-based gene therapy development company; Beam Benefits, a Columbus-based digital employee benefits firm; and Root Inc., a Columbus-based auto insurance firm.
The new seed investment program will further support what the company believes are overlooked outliers across the entrepreneurship ecosystems of Middle America.
"Even companies that are a household name now started out as just an idea," Olsen says. "That's why we're targeting promising founders."
Drive will position general managers in each of the targeted cities in order to be closer to the startup networks in those regions. "Drive is eager to be part of each city's startup community, and that's accomplished by having our boots on the ground," says Landon Campbell, Chicago's general manager.
Before joining Drive, Campbell was at video-sharing site Cameo, Motorola and Inside.com. He is also the founder and host of inTheir20s, a podcast that interviews successful entrepreneurs, highlighting their journey and experiences during their 20s.
The other general managers are:
– Andy Jenks, Columbus, a general partner at Drive Capital who has invested in 70 pre-seed and seed companies and founded three companies in San Francisco.
– Avoilan Bingham, Atlanta, who was formerly head of sales for The Labz, a business-to-business software platform, and was also an early-stage portfolio manager for Goodie Nation, an Atlanta-based accelerator.
– Matt Zwiebel, Denver, who previously ran Pledge 1% Colorado, a nonprofit that supports startups in setting aside equity in support of their communities.
– Alanna Souza, Toronto, who previously worked at a Series B startup, Plum Guide, for four years in a variety of roles and was also head of brand development at SSENSE, a Montreal-based, multi-brand, ecommerce retailer.