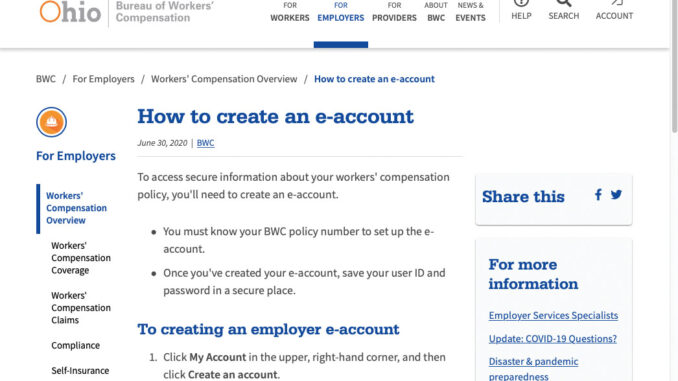 By Deborah Rutledge
The Ohio Bureau of Workers' Compensation has been encouraging employers and employees to transact their workers' compensation activity online, using e-accounts.
E-accounts began in October 2000, and 75% of employers have set them up to do business with the bureau. Injured workers also can set up and use e-accounts (must have a claim number) to track claim information and benefits.
"An e-account is an easy, convenient and secure way for employers to stay up to date on the status of their policy, their account balance and other pertinent information," Winnie Warren, the Bureau of Workers' Compensation's interim chief of employer services, says. "It's also the simplest way to make sure their information is accurate and up to date, which minimizes the potential for errors and miscommunication."
The Ohio BWC website at bwc.ohio.gov has directions for setting up e-accounts (search for e-account) and a number to call for help or to answer questions about e-accounts: (800) 644-6292.
Multiple individuals can have access to policy information in an e-account, so if several people handle workers' compensation issues, one primary e-account can be created, with other individuals added as secondary users. All secondary users must have their own user IDs and passwords.
Online, employers can manage their policies, pay bills and complete their payrolls true-up. Premiums are calculated through the true-up process, which requires employers to report their actual payroll for the previous policy year and reconcile any differences in premium paid.
If there is no reconciliation to be made—meaning that their payroll for the year matches what the BWC estimated—employers still must submit true-up reports.