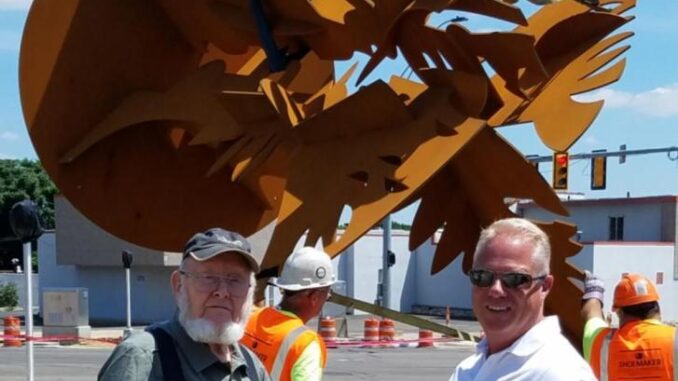 From a couple of inches to around the world, Shoemaker Rigging makes it happen
By Terry Troy
When Steven Shoemaker started Shoemaker Rigging and Transport, he didn't exactly have the background for moving heavy machinery, let alone entire manufacturing plants.
But he did grow up in the industry.
"I am not your typical rigging company owner," says Shoemaker, who formerly worked for a Fortune 500 company and holds an MBA. "I'm actually more of a finance guy, recently coming out of the software business."
However, his father, Gary Shoemaker, an industry veteran, was a principal of a well-respected company in the business called Keller Rigging and Construction. But Keller's management was in their 70s and Gary told his son that the company would soon be closing its doors due to management retirements. The elder Shoemaker also advised Steve that there would soon be a clear market need for quality rigging services, both locally in Northern Ohio as well as across the U.S.
Steve, who had recently sold his interest in the software company he helped found 10 years earlier, decided to start Shoemaker Rigging and Transport in Akron in July of 2013. Gary could not help due to a non-compete and fiduciary duty to his company, but rigging veteran and Gary's close friend, Joe Winkleman, did.
Winkleman, a former Keller employee, kept pushing Steve to do it.
"If it wasn't for Joe Winkleman, we wouldn't be here. We didn't start operations until the following year," says the younger Shoemaker. "There was a tremendous amount of preparation and investment that had to take place to get started, and fortunately I had the business experience and resources to get the company off of the ground."
Soon, Shoemaker Rigging was on its way to building a solid reputation in the industry.
Steve's father Gary joined the operation after a brief retirement in the spring of 2014, after Keller finally had closed its doors. By the time Gary passed away in 2016, Shoemaker Rigging and Transport had grown into one of the largest rigging and transport companies in Ohio.
It's known today for its experienced personnel, many of whom have decades of experience. It has also been recognized as one of the fastest growing companies in Northeastern Ohio in terms of both revenue and hires.
The company has the personnel and equipment, tools and expertise to rebuild and aid in the repair of all kinds of equipment from a myriad of industries. Its experienced riggers have extensive knowledge and know-how to provide solutions for moving machines a few inches or around the world.
The company's services include disassembly of intricate machines and packaging them for ocean freight shipping, to reassembling those machines anywhere in North America, Asia and Europe. Its rigging personnel travel internationally offering that turnkey service—utilizing the same personnel that disassemble and package machinery to reassemble the machines at their destination.
"That's always the best practice," says Shoemaker, "and we're doing it continuously. We hardly slowed down during the pandemic."
The company also has ample experience with many industries.
"The nice thing about rigging and transport is that it's not just working in one industry," says Shoemaker. "We have done everything from putting in large X-ray machines in airports and jails to moving breadmaking companies."
And the projects Shoemaker takes on may take anywhere from a couple of days to a couple of years—the company's project managers use software that ensures successful completion of even the most complex projects within target dates and budgets.
"There is a large trust factor in this business," Shoemaker says. "We earn that trust because we do a lot more than just throw a machine on a truck for transport then wash our hands of the project."
And that's what sets Shoemaker apart.
"Our specialty is doing the difficult, intricate jobs that no one else can do," Shoemaker adds. "We take those projects on because we have very skilled workers. And we are willing to travel."