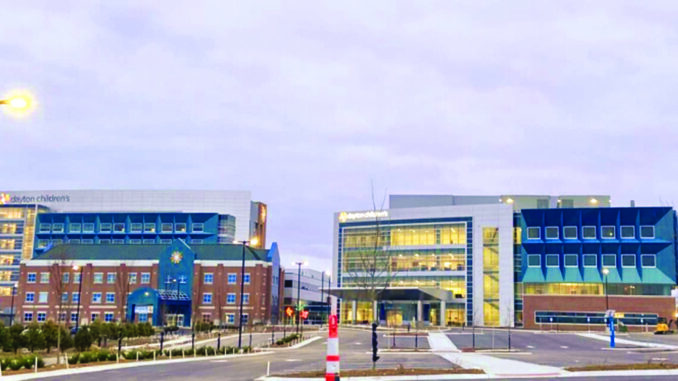 Dayton Children's Hospital upgrades with care center
High tech meets the latest in comforting interior design at Dayton Children's Hospital, which opened a five-story specialty care center in March.
The $78 million project houses more than 30 pediatric specialties on four floors of outpatient clinic space. A fifth floor shell space was added for future expansion for a total of 152,000 square feet. The building houses specialties that include orthopedics, pulmonology, endocrinology and diabetes, neurology, and gastroenterology, and couples the latest in technology with thoughtful, engaging design.
"We've talked in depth to our families about what would make it easier on them to take care of their child," says Cindy Burger, vice president and chief experience officer for Dayton Children's. "We combined that with what our physicians, nurses and care teams need."
Among the technological features in the new center are a bio-simulation lab, where surgeons can train on the latest techniques using lifelike patient simulators that react physiologically. It also allows surgeons to train the next generation of medical residents and students, as well as educate children and families on their conditions and surgeries.
New features also include a water therapy tank in the orthopedics division so children can safely perform exercises they couldn't do without the water's support, which helps them heal quicker and with less pain.
Top of the minds of families was convenience, hospital officials say, so the hospital has added 150 new surface parking spaces in addition to the existing parking garage. An efficient registration center was created so families can register for all their appointments that day at once with assistance or on their own at a kiosk.
Diagnostic testing was co-located so any tests a child may need are mostly located in the clinic, close to the exam room. Exam rooms were built with flexibility that allow for multiple specialists to examine the child, reducing the family's need to go from room to room. And every exam room is designed to enable a virtual visit if medically appropriate.
The new space also includes whimsical artwork and other visual effects throughout. Distraction devices were built in, including a Rube Goldberg-type ball machine in the lobby, a sensory wall, touch-and-play games in the waiting rooms and an outdoor garden with a sculpture play area.
Hospitals can be difficult places to find your way around in, so the new center makes use of layered wayfinding, so paths are marked by numbers, letters, colors and icons of things that fly. For example, on the fourth floor a purple butterfly highlights the area where services including endocrinology and diabetes care, neurology, and pulmonary care are housed.
Inside some of the exam rooms, marble walls and touch-sensitive lights were added for children with sensory needs. For those in need of quieter experiences, there are nooks in the waiting rooms to provide a calm-down space and distraction-free exam rooms.
"We made a commitment to our community to continue to renew our facilities for future generations of children needing our care," says Deborah Feldman, president and CEO. "Care changes quickly and we are just the right size to be nimble in our response to that change."
The hospital re-enlisted Cannon Design/FKP, Champlin Architecture and Danis Construction, the firms responsible for architectural design and construction management of the hospital's patient tower that opened in 2017.