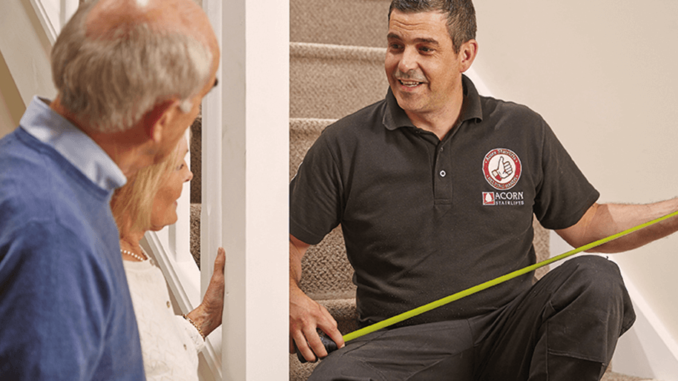 National stairlift company chooses Lorain County for new customer service facility
By Val Hunt Beerbower
A vacant space that once held a Macy's credit card and data processing center will soon open its doors as a new customer service center for Orlando, Florida-based Acorn Stairlifts. The company produces, installs and repairs in-home stairlifts for people with limited mobility.
Acorn launched in 1992 when founder John Jakes' mother had just purchased a refurbished stair lift and asked him for help with repairs. Jakes was quickly recruited by his mother's friends to repair their stairlifts, and thus the seeds of the future $70 million company were sown.
That family-friendly vibe is one of the qualities the company found attractive about Ohio. "The selection of Lorain County is a strategic location to service our customers efficiently," said Shawn Herbs, VP of operations for Acorn, in a press release. "Having been from this region, I also know the talented and dedicated workforce will ensure our success."
The 205,000-square-foot facility was sold for $1.7 million, which included 17.4 acres where the complex is located. Despite an initial investment of $12 million into the data center, Macy's Systems and Technology shuttered the site in 2020. While not technically a brownfield site, the property sat vacant for a while due to its unique configuration. Fortunately, state and local economic development teams worked together to identify an appropriate user in Acorn.
JobsOhio, Team NEO, Lorain County, Sheffield Township and the Ohio Department of Development all collaborated to bring the $3.4 million project to the area. JobsOhio says the company chose to expand in northeast Ohio due to the legacy of manufacturing talent and exceptional logistics, including a renowned infrastructure and proximity to key markets. Acorn also scored an eight-year 1.3% Job Creation Tax Credit to help fund the project.
"We're excited to welcome a leading company like Acorn Stairlifts to the Northeast Ohio Region," said Team NEO CEO Bill Koehler in a press release. "This is a great example of how a company can be creative in repurposing an existing space to fit their needs. Along with JobsOhio, ODOD and our local partners, we look forward to working with Acorn Stairlifts to support its tradition of quality and innovation."
The Acorn facility was one of 14 projects announced during the Ohio Tax Credit Authority's December meeting. Gov. Mike DeWine and Lt. Gov. Jon Husted's office said the combined projects represented 1,663 new jobs and helped retain 3,457 jobs statewide. Collectively, the projects are expected to result in more than $99.7 million in new payroll and spur more than $202.6 million in investments across Ohio. Locally, the jobs in the new facility will generate $5.4 million in payroll for Lorain County.
Acorn's new North American Distribution Center will create approximately 25 to 50 full-time positions, and the stairlift company will look to utilize this location for light assembly, which would create another 50 classes, bringing about 125 jobs for work at the Sheffield Center location over the next two to three years. The largest stairlift manufacturer in the United States also has a presence in Canada, Germany, Italy, the United Kingdom, Australia, New Zealand and South Africa.