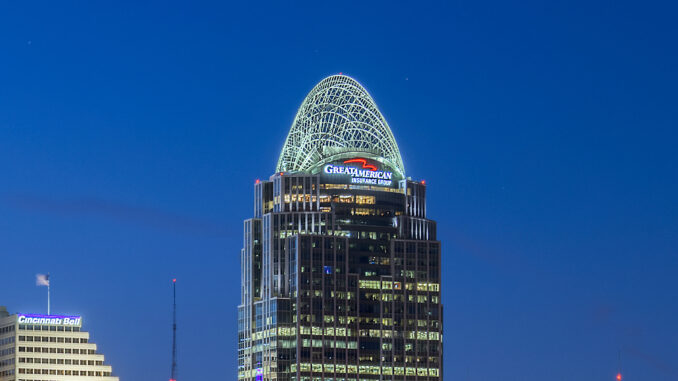 Great American Life to create 150 new jobs, preserving 600
By Terry Troy
The news keeps getting better for the insurance industry in Ohio. More than 120,000 Ohioans work in the insurance industry and more than 258 insurance companies call Ohio home, according to the Ohio Insurance Institute.
It's both a stable and growing trade in the Buckeye state, and the news seems to get better every day. At the end of last month, Great American Life Insurance Company ("Great American Life"), an independent subsidiary of Massachusetts Mutual Life Insurance Company ("MassMutual"), announced its intent to preserve more than 600 jobs along with plans to create an additional 150 jobs by the end of 2026. Additionally, the company plans to make an $8 million facility investment as it builds out office space within the GE Global Operations Center in The Banks in downtown Cincinnati.
"Great American Life has a strong history in Ohio and the City of Cincinnati," said Mark Muething, president and COO of Great American Life. "We appreciate the partnership with the State of Ohio, JobsOhio, the City of Cincinnati and REDI Cincinnati as we continue to grow our business in The Queen City, retaining and adding jobs, contributing to the local economy, and helping more people plan for a secure retirement."
Great American Life, a leading provider of annuities, became an independent subsidiary of MassMutual in May 2021 following MassMutual's acquisition of Great American Life and other subsidiaries and affiliated entities from American Financial Group, Inc. After being based in Ohio for nearly 30 years, Great American Life has made the decision to remain and grow in the city of Cincinnati and State of Ohio due in large part to the area's highly skilled workforce.
The company expects the growth will be fueled by capitalizing on opportunities under MassMutual's ownership. The company's plans to invest $8 million in building costs will come as it relocates a majority of its employees and operations to the GE Global Operations Center located at 191 Rosa Parks Street as well as a smaller secondary office within the Enquirer Building at 312 Elm Street. The company plans to finalize these leases following the City's formal approval of its support.
"The fact that Great American Life is choosing to remain in and expand in Cincinnati further strengthens Ohio's leadership in the financial services sector," said Mike DeWine, Ohio Governor. "Ohio's ingenuity and global competitiveness are paving the way for companies like Great American Life to write the next chapter in their success stories."
"The news that an industry leader like Great American Life will continue growing in Cincinnati is a testament to Ohio's expertise, innovation, and talent, ensuring the financial services industry continues to thrive here," said J.P. Nauseef, president and CEO of JobsOhio. "Keeping more than 600 jobs in Cincinnati and adding 150 new jobs is further evidence of Ohio's value proposition for companies looking to invest in long-term growth."
"Our City is committed to ensuring our economic environment attracts diverse young talent to move here and stay," said Aftab Pureval, Cincinnati Mayor. "We are thrilled to see Great American Life building upon their leadership in our region, and we look forward to continued strong growth through collaboration with the State, JobsOhio and REDI."
"We are grateful to not only retain Great American Life's business in downtown Cincinnati but to also help them grow it here as well," added Kimm Lauterbach, president and CEO of REDI Cincinnati. "The Cincinnati region is home to 3,500 businesses and 57,000 employees in the financial services sector. Combining those resources with the affordable cost of doing business here demonstrates our region has the ecosystem in place for financial service companies to thrive."