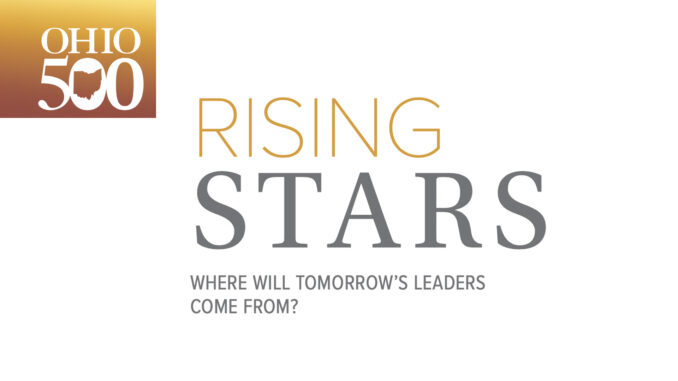 Where will tomorrow's leaders come from?
By Terry Troy
While this issue of Ohio Business celebrates the 500 most influential, powerful and effective organizational leaders in our state, there are many more in the wings. Very few are planning to assume positions of leadership and power. Mostly, they are entrepreneurs simply chasing the dream of business or organizational success.
"Entrepreneurs have to be incredibly agile and resilient," says Pete Blackshaw, CEO of Cintrifuse, a syndicate "fund of funds" and startup incubator in the Greater Cincinnati created by P&G, Kroger, Western & Southern and other major entities in Southwest Ohio. "Entrepreneurs also have to be humble. They have to be reactive to the volatility of the market. Fortunately, we have a very good foundation for entrepreneurs in the Greater Cincinnati area."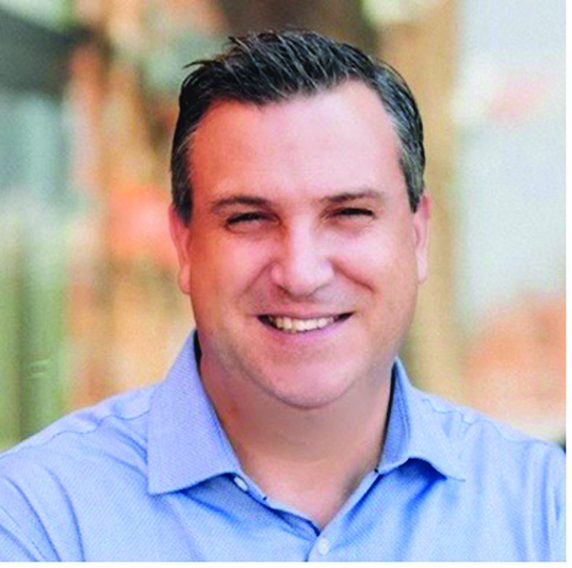 Blackshaw is not alone in his assessment. According to a new report by Incfile, Cincinnati was named the No. 1 city in the nation for young entrepreneurs to start their journeys, standing out not only because of its low cost of living, but also because of its high number of residents with bachelor's degree and low tax rates (both personal and corporate). In addition to Cintrifuse, it is also home to CincyTech, which has partnered with our state government to help fund regional startups across the state.
Coming in fifth on the list was Columbus, selected for its younger demographic. Here Gen Z and Millennials never have to worry about being out of their element. Like Cincinnati, and all of our state, Columbus also boasts a very low cost of living. There is no corporate income tax and a relatively high GDP per capita for this up-and-coming city.
In addition to being a fecund environment for entrepreneurs, Ohio and the Greater Cincinnati area are also home to many cutting edge and emerging industries like aerospace, advanced manufacturing and AI (artificial Intelligence), which are industry segments where many of our new business leaders will surely be born.
The recent Cintrifuse P&G Signal Simulcast and live Startup Showcase Brunch, sponsored in part by Cintrifuse, CincyTech USA and Blue North, this past summer showcased some of the breakthrough innovations in AI industry born out of the Midwest and Cincinnati in particular. The collection of AI startups clearly demonstrated the region's ability to foster entrepreneurs and change industry.
It is true that much of AI development currently is focused on America's coasts, "however, I am a firm believer in the untapped potential and strong consumer connection that exists beyond those areas, particularly here in Greater Cincinnati," says Blackshaw. "This region provides a unique opportunity to establish distinctive niches in the AI landscape, including the intersections of AI with trust, ethics, health, and smart and sustainable supply chains."
The Midwest, says Blackshaw, exists in an area he describes as the "consumer corridor." It also enjoys several distinct advantages. It is home to major industry leaders like Procter & Gamble and Kroger. Major universities like Miami University, Northern Kentucky, Xavier University and the University of Cincinnati keep the regional workforce well supplied with candidates with four-year and even more advanced degrees.
"We are also quickly becoming the No. 1 e-commerce distribution hub in the country," adds Blackshaw. "When you add Amazon Air Prime, DHL and a number of other suppliers, it gives us almost unlimited growth potential."
As AI rapidly unfolds, Backshaw reported several important themes in a recent blog about the Cintrifuse P&G Signal Simulcast. He also tied those themes to emerging AI companies in the Greater Cincinnati area: deploying AI for data-driven decisions, crafting personalized experiences, implementing automation for increased efficiency and powering manufacturing for the Internet of Things (IoT).
A total of 10 Cincinnati area AI companies were featured at the Cintrifuse event, including Scheduler AI, 80 Acres Farms, NativeAI, Pieces.app, Spatial.ai, Nichefire, Navistone, Losant, Voxel Technologies and TeamCentral.
"From utilizing AI for data-driven decision-making to curating personalized experiences, and streamlining processes via automation, to enhancing manufacturing with IoT integration, these startups highlight the transformative impact of the region on the marketing industry," says Blackshaw. "By embracing AI, the Midwest is forging its identity as an innovation center, demonstrating that groundbreaking advancements can sprout from unanticipated regions."
The Young Lions of AI
After Brandon Cannaday and Charlie Key successfully sold Modulus, a platform-as-a-service application for Node.js developers back in 2015, the two began to get requests for a platform that could help with IoT solutions They were joined by a former RHIT (Rose-Hulman Institute of Technology) classmate Michael Kuehl and soon created Losant, an IoT company that is changing the way businesses collect and analyze data. The company offers an intuitive platform that allows companies to seamlessly connect, visualize and automate devices and data. Users can unlock real-time insights and actionable intelligence, which allows them to date driven decisions quickly and efficiently.
According to the company, Losant is committed to actively building, monitoring and maintaining its IoT cloud platform, which serves as the foundation for many of its IoT solutions. Losant describes the platform as an "easy-to-use application enablement platform to balance the developer's need for experimentation with the enterprise's need for scalability. The Losant Enterprise IoT Platform combines data collection with data visualization and edge computing features for the seamless integration of one to millions of connected devices to provide enterprises with the ability to respond to IoT data insights. As we add new features and platform updates, we consider usability, flexibility, reliability and security to promote ease of use for our customers, as well as peace of mind."
Today, Cannaday serves as Losant's chief product officer and is responsible for aligning the founders' collective platform vision with the needs of the enterprise customer. As chief technology officer, Michael Kuehl leads Losant's team of software engineers, while CEO Charlie Kay sets the tone for the entire team, managing high profile accounts and relationships with investors.
Other Ohio entrepreneurs are making waves, too. Meet University of Michigan graduates Aaron Chow and Zach Beller of Voxel Technologies. Positioned at the forefront of advanced manufacturing, Voxel offers performance improvements for engineering products through its dedicated team of engineers and proprietary software. Voxel lets businesses optimize manufacturing processes to enhance product quality while improving manufacturing efficiency and cost effectiveness.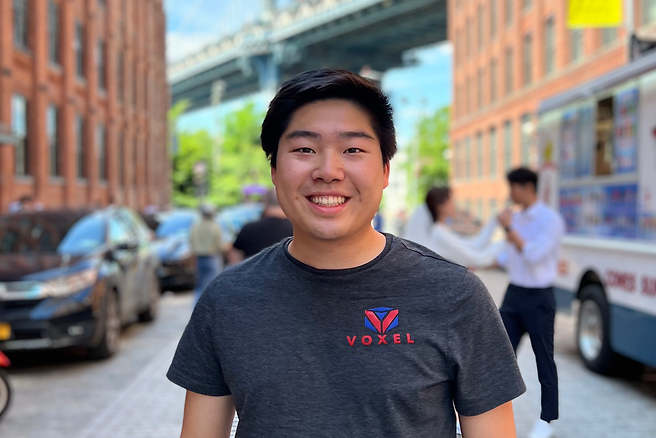 Serving as Voxel's CEO, Chow is a graduate of the University of Michigan with a degree in electrical engineering. He has six years of industry experience in additive manufacturing working, consulting and advising for many of the world's most advanced companies such as Autodesk, Johnson & Johnson, Ethicon, Northrop Grumman, NASA, GE Aviation and Aurolab.
Graduating from the University of Michigan with degrees in mechanical and electrical engineering, Beller serves as CTO of Voxel. He is currently attending Georgia Institute of Technology for a Ph.D. on piezoelectric materials and has received a President's Fellowship. Beller has over six years of industry experience working with Sandia National Laboratories developing reduced order, multi-physics modeling tools, advanced manufacturing systems, materials for use with additive manufacturing and high consequence safety devices for extreme environments.
Both Beller and Chow are Air Force Additive Manufacturing Olympics finalists.
From AI to Farming
"One of the biggest rising stars in our business ecosystem is a company called 80 Acres," says Blackshaw. "They are a hydroponic vertical farming company that is right smack in the middle of the whole sustainability area. They also have some very prestigious investors like General Atlantic and Siemens."
80 Acres is putting the agriculture industry literally on its ear, leveraging AI to boost sustainable farming practices. Using AI-driven automation, the company utilizes an indoor vertical farming technique that uses less space and resources while maximizing crop yields.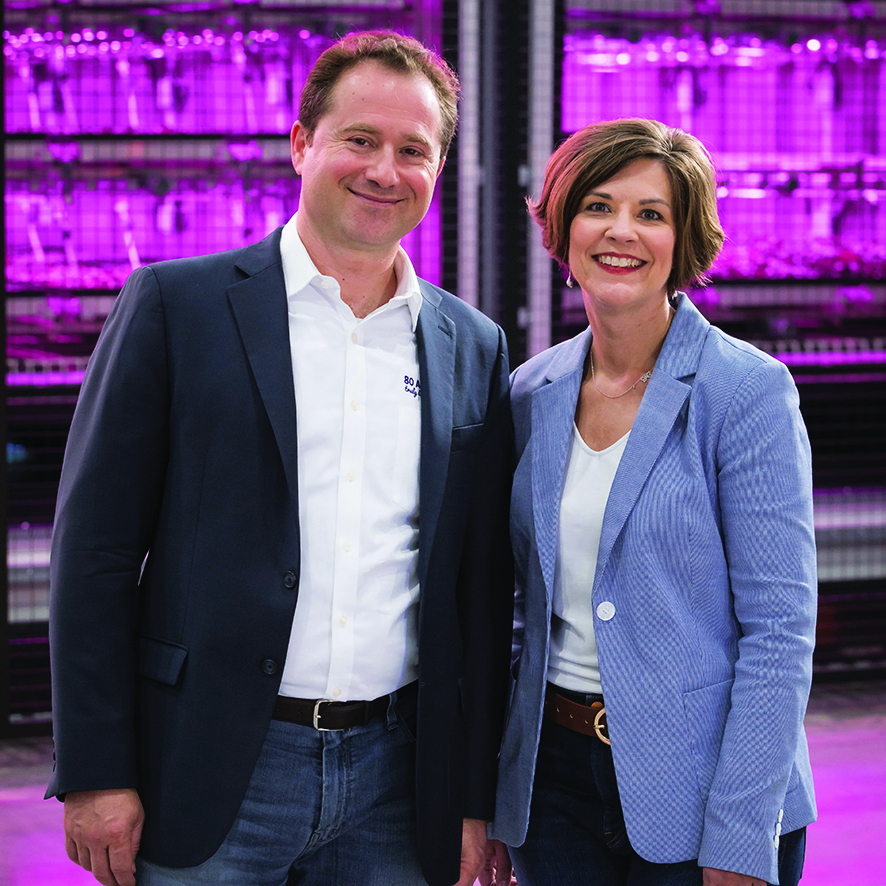 In fact, that is how the company came up with its moniker, according to co-founders Mike Zelkind and Tisha Livingston, the latter of whom is also CEO of Infinite Acres, the company's tech-focused subsidiary. The company's first farm was only one-quarter acre, but using super-efficient vertical farming techniques, it found it could grow as much food as 80 acres of traditional farmland.
But it all started with Zelkind and Livingston's desire to produce healthier, better tasing foods, which they now do completely indoors using 100% renewable energy without pesticides or shipping foods excessive miles.
This company is well on its way, especially with one of its largest customers so close. This past August Kroger, a customer of 80 acres since 2019, announced plans to serve about 1,000 stores across the Midwest and Southeast.
"At Kroger, we believe everyone deserves access to fresh, delicious food," says Dan De La Rosa, group vice president of fresh merchandising for the grocery chain giant. "80 Acres' unique approach and technology enables us to offer fresh, nutritious produce to our customers while advancing sustainable growing practices. Together, we'll expand the reach of these long-lasting and great-tasting 80 Acres Farms items year-round."
80 Acres Farms grows pesticide-free produce—including salad blends, herbs and tomatoes. Currently, the company operates production farms in Ohio and Kentucky, as well as research facilities in Arkansas and the Netherlands. The company's newest farm in Florence, Kentucky, commenced operations in last year and supplies approximately 40 million servings of produce annually. 80 Acres Farms is preparing to open another next-generation farm in Georgia, with more locations on the way.
"I am very bullish about their model because that's the way you build a startup economy," adds Blackshaw. "You need to have a flywheel effect, and by that I mean you need to have a company that grows to scale, then spins off other successful companies."
While AI has already taken root in Cincinnati, other industries are emerging as well, including Fintech (financial technology) and aerospace, which are both growing and gaining strength, the latter being driven by Southwest Ohio's close proximity to Wright-Patterson Air Base and major companies like GE Aviation as well as the recently announced joint agreement between nonprofits Parallax Advanced Research (formerly the Wright State Applied Research Corporation) of Beavercreek and the Ohio Aerospace Institute (OAI) of Cleveland.
"We have a really strong presence in aerospace, especially with GE Aviation," says Blackshaw. "But Velontra is developing hypersonic jet engines that are highly sustainable and produced at a fraction of the price. They are an excellent example of our as yet untapped potential around aerospace.
"If you look at ecosystems like Los Angeles, there must be at least 100 different spinoffs from Space X alone. Once again, a company like Velontra can have a great fly-wheel effect."
Especially when you think historically about the impact the Wright Brothers have had on aviation and flight.
Velontra is focused on research and development of air-breathing hypersonic vehicles with defense and commercial applications. It's carved out a niche of accelerating development while reducing costs of such systems.
While most air-breathing hypersonic engines are typically a size you would find in a fighter jet, Velontra recently ran a test of an 11-inch, 5-foot-long turbo jet as a part of its Bronco hypersonic propulsion system. The engine's small size makes it ideal for smaller drones and other vehicles. And it's said to be extremely cost effective, with its cost estimated to be less than $200,000, according to the company.
Velontra is also building a hypersonic space plane capable of reaching speeds of close to 3,500 miles per hour that can take off horizontally, anywhere in any weather. The horizontal takeoff is said to increase launch reliability while also enabling customers to access any orbit. The company also claims its air-breathing propulsion system is up to six times more efficient than any rocket and uses oxygen from air, which allows for thousands of pounds of additional payload capacity.
So, who are these pioneers taking Ohio's aerospace industry "where no one has gone before," and doing it more efficiently?
A veteran-owned company founded in 2021, Velontra's management team includes Robert Keane III, CEO; Graig Whelden, president; and Joel Darin CTO, each with ample experience in both the hypersonic and aerospace industries.
Darin was most recently the first employee at Hermeus, where he designed, built and tested a turbine-based-combined-cycle prototype demonstrator that could achieve speeds up to Mach 4. Prior to that, he worked at GE Aviation in afterburner design. Darin performed research in computational fluid dynamic simulations of reacting flows while obtaining a master's in combustion from Georgia Tech. He's a graduate of Michigan State with a bachelor's in mechanical engineering.
Whelden is a retired Army 2 Star General and has occupied many leadership roles as both a commissioned officer in the Army and a civilian executive director of the Marine Corps Forces Pacific. He is a member of Purdue University's ROTC Hall of Fame, a four-time award-winning international best-selling author and a Global Fortune 500 speaker.
A Force Recon Marine decorated for valor in combat, Keane graduated ERAU (Embry-Riddle Aeronautical University, Dayton Beach) with an MSAE. He was an engineer for military exhaust systems for GE Aviation for multiple powerplants. He transitioned to a become principal engineer role at BAE systems, working on the Railgun program while also facilitating the manufacture and assembly of hypersonic launchers.
Clearly, building a hypersonic engine capable of reaching Mach 5 is just the first step on Velontra's journey and they already have several buyers lined up. The next objective is the creation of the unmanned aerial vehicle and launching a second stage rocket into low earth orbit.
How high can Velontra go? Time will only tell. But clearly, the sky is not the limit.