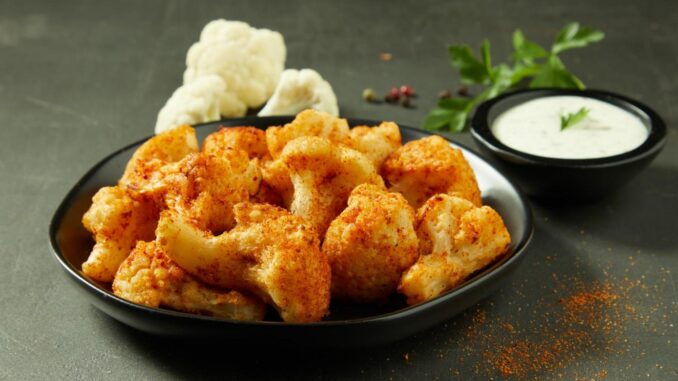 Donatos Pizza expands healthier alternatives
By Jill Sell
Move over chicken wings. There's a new appetizer in town, introduced in January by Donatos Pizza, the Columbus-based company best known for its thin crust pizzas.
Cauliflower Wings (roasted cauliflower florets) are served with a choice of three different sauces or four rubs. The new item became available about the time the family-owned company celebrated the one-year anniversary of the introduction of its cauliflower crust pizza.
Innovations are nothing new for the company established in 1963. Donatos opened one of the first pick-up windows, created a gluten-free crust system and developed a plant-based sausage. It also trashed trans fats in its recipes early on.
"Our team members find trends that are out there and we capture them at the front end. Cauliflower was really starting to take off, for example. But doing it and making it taste good are two different things," says Tom Krouse, Donatos' president and CEO, whose father-in-law is company founder Jim Grote.
Donatos owns 168 traditional restaurants in 10 states, including 113 in Ohio, plus has operations in 79 Red Robin locations and 14 sports entertainment venues.
Staying on trend is a given. But didn't 2020, when many businesses were devastated by COVID, put the company on hold? Evidently not. Donatos opened 10 new stores since April 2020, including one in Dayton.
"There was a point when everything was shutting down and we already had plans to open new stores that I was thinking I might be crazy to open during a pandemic," confesses Krouse. "But we talked a lot about being more of a public service. Yes, we charge for the pizza, but we wanted to be there for everyone. People were panicked about getting food from grocery stores and we felt we had to deliver food to them."
It wasn't just pepperoni pizza that was delivered. It was also jobs. New Donatos restaurants created more than 500 positions, and because sales in existing stores were up double digits last year, additional employees were hired to handle the increase. In the Red Robin restaurants that offer Donatos pizza, sales increased 5% over those that don't sell it, helping that chain as well.
"They were very happy," says Krouse, whose stepson, Tony Capuano, a grandson of the company's founder, has joined the now three-generation Donatos family business.
The company president credits on-going communication with vendors, employees and customers for its success when there is "so much fear out there because of the pandemic." Regular communication, Krouse believes, "creates a better sense of calm."
"We talk about being honest with everyone. That's not always the profitable thing, but it is at the core of our mission," says Krouse, adding that his business partners were able to supply all the ingredients his new restaurants needed to open with a full menu, something not all other restaurant chains were fortunate to have during food shortages last year.
And about those Cauliflower Wings… Krouse believes the sauces initially will be the most popular choice. But once people try the "very light coating of the dry rubs, they'll discover a very nice texture to them," he predicts.